Wow! Wet!
What a day Thursday. Sea-Tac absorbed 1.05 inches of water. This broke the record rainfall for June 15 which was a paltry 0.37 inches set twice, in 1954 and 1964. Sea-Tac Airport was one of the wettest places around Puget Sound.
Olympia only got 0.58 inches, which was far from its record of1.05 inches set in 1954.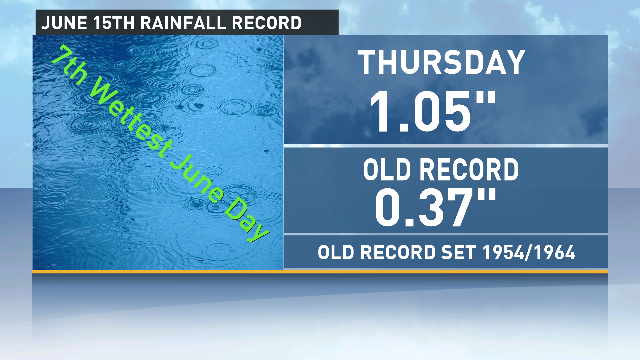 Out along the coast, it was a soaker. Hoquiam had 0.98 inches, breaking its old record of .0,82 inches set in 1976.
The state champion is Forks or, more specifically, Quillayute Airport. It measured 1.97 inches Thursday, breaking their old record of 1.52 inches also set in 1976. There is a reason there are rain forests out there.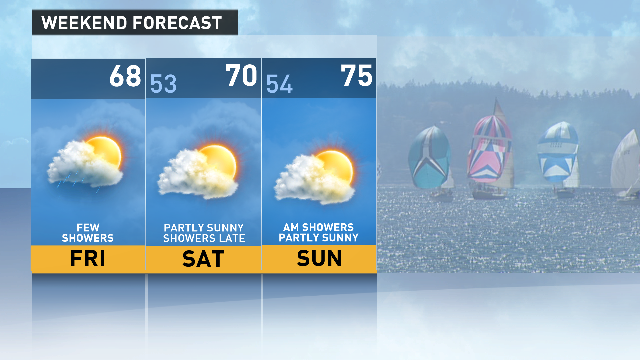 The weather will be much drier for all of the weekend events. Friday afternoon should see partly sunny skies with only a few showers mainly near the Cascade foothills. A good start to the weekend.
Saturday we should see some sun during the morning but clouds will increase in the afternoon. We may see a few showers moving in after about 7 - 8 p.m. Showers are possible overnight Saturday and may stick around until mid-morning Sunday, so there may be a few drops on the Rock and Roll Marathon Sunday morning. But the showers will end and the sun comes out for Father's Day afternoon. And we should warm into the low to mid-70s.
Not a bad end to the weekend!