A major weekend project will impact drivers in Tacoma.
The southbound Interstate 5 exit 135 and the Bay Street/East 27th Street Intersection will be closed, this weekend, according to the Washington State Department of Transportation.
The exit will be closed from Friday, May 19 at 11 p.m. to Monday, May 22 at 4 a.m. while crews rebuild and pave the intersection.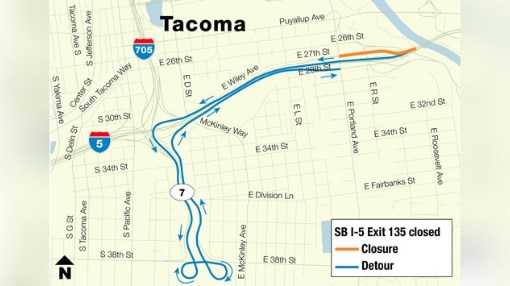 Concert-goers who plan to attend the "Life in Color" event at the Tacoma Dome Saturday, are being urged to give themselves extra time to maneuver the detour or find alternate routes.
This is part of a project that will ultimately widen northbound I-5 from Portland Avenue to the Port of Tacoma Road to make room for an HOV lane.
WSDOT also plans to rebuild the northbound I-5 Puyallup River bridge, improve the Portland Avenue interchange and resurface all the lanes of northbound on I-5 in the immediate area.