Two public meetings are planned for next week to address growing concerns at the Fauntleroy ferry terminal in West Seattle.
It's the latest step in Washington State Ferries' effort to gather passenger input and identify ways to improve the Fauntleroy/Vashon/Southworth route known as "The Triangle."
But the outreach is doing little to quiet the concerns of fed up ferry passengers, particularly those traveling to and from Vashon Island.
"It's frustrating, really frustrating," said passenger Amy Wolff. "If you're here on time or in line by Lincoln Park and you've been on line since before the boat came and the boat comes and leaves and it's not full, something's not working."
Passengers on the Vashon route say it's now a routine occurrence. They say they're being forced to wait in line for hours, even though departing ferries are rarely filled to capacity.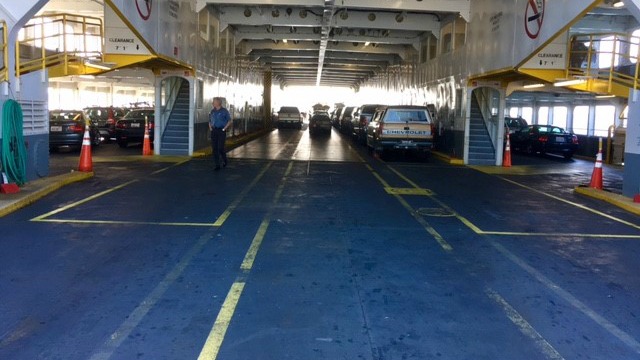 A spokesperson for Washington State Ferries said they're aware it's a problem. He says there's just no easy solution.
"There's only so much you can do with a dock that was built in the 1950's to move the traffic of today. At the end of the day, the infrastructure is just not there, and so we have serious constraints," said Ian Sterling with Washington State Ferries.
The issue is that each ferry can carry about 124 cars, but the aging Fauntleroy dock only has space for 80 to 90 vehicles at a time. The dock was built in 1957.
"We just can't fill the boats quick enough and move people through the toll booths quick enough," said Sterling.
A task force convened by Washington State Ferries met on Thursday evening, and spent hours talking about the problem and possible solutions.
"It just needs to be a bigger dock with two dock spaces, so you can load and unload much quicker," one person in the crowd told task force members.
Others say the answer is to bring back a bypass lane that allowed passengers with prepaid tickets to avoid the toll booth and go straight to the boat.
"If you're running an empty boat with a line, you are wasting taxpayer money. Bring back the bypass lane and fill the boats," said Vashon Island resident Laurie Perkins.
Sterling says the bypass lane is no longer an option, because it was putting ferry workers in danger while they direct traffic at the terminal.
"Unfortunately, it creates unsafe conditions for our folks. You have van pools, motorcycles, you have traffic approaching from multiple directions, and that causes a lot of trouble for someone who has to stand there in the middle of traffic and we don't want anyone to be unsafe," said Sterling.
He said delaying departures to allow more time to load vehicles won't work either. If a ferry is delayed so that it can be filled to capacity with cars, the vessel will be late picking up passengers as its next stops. It will also be late on its return back to the Fauntleroy terminal. In addition, because there is only one dock at the Fauntleroy terminal, WSF says that would mean the next ferry can't land when it's supposed to.
Sterling said that's why the boats often depart before they're full.
"So the next question is, is there anything that can be done with the dock? It's going to be tough, especially for it to have any real impact. Could we experiment with schedules? Is changing the schedule a way you could maybe fill the boats better and use them more efficiently?" he said.
They're ideas that will be no doubt be discussed at next week's community meetings.
The first is set for September 20 at 7 p.m. It will be held in the cafeteria at Vashon High School. The second meeting is planned for September 21 at 7 p.m. It will be held at the John Sedgwick Junior High School Commons in Port Orchard.