After fighting a proposed Snohomish County housing development for 12 years, neighbors are resuming their rally cry.
The developer of Frognal Estates, Integral Northwest, has asked for a separate permit to start logging even though the development is stuck in appeals court. Along with nearly a thousand petition signatures, the city of Mukilteo as well as the Tulalip Tribes have spoken out in opposition.
"Well, I live across the street and I'd hate for that to slide down my front yard," neighbor Steven Ourada said. "In addition, all the wildlife that's going to be disturbed by removing the forest. We've got coyotes with pups, woodpeckers, over 30 species of birds, a variety of small animals, owls hooting at night. All of that will be destroyed and gone for anyone within a range of this area."
It's the quiet of the area near Picnic Point Creek that makes it so popular, but lately nearby homeowners have been making a lot of noise.
Their battle against a planned clear-cut and new neighborhood began in 2005. The opposition, along with the 2008 recession, delayed the construction for years. It's still stuck in appeals court, but the developer is now asking to log nearly 17 acres anyway. According to Snohomish County, they want to get a head start on the work before the rainy season begins.
"The county has not responded," explained Emily Mydynski Wood. "They've given all the benefit of the doubt and all the advantage to the developer."
At issue is not just the noise that comes with 112 new homes. Because the development plans were submitted in 2005, it's not required to abide by new erosion and stormwater rules that followed the Oso landslide.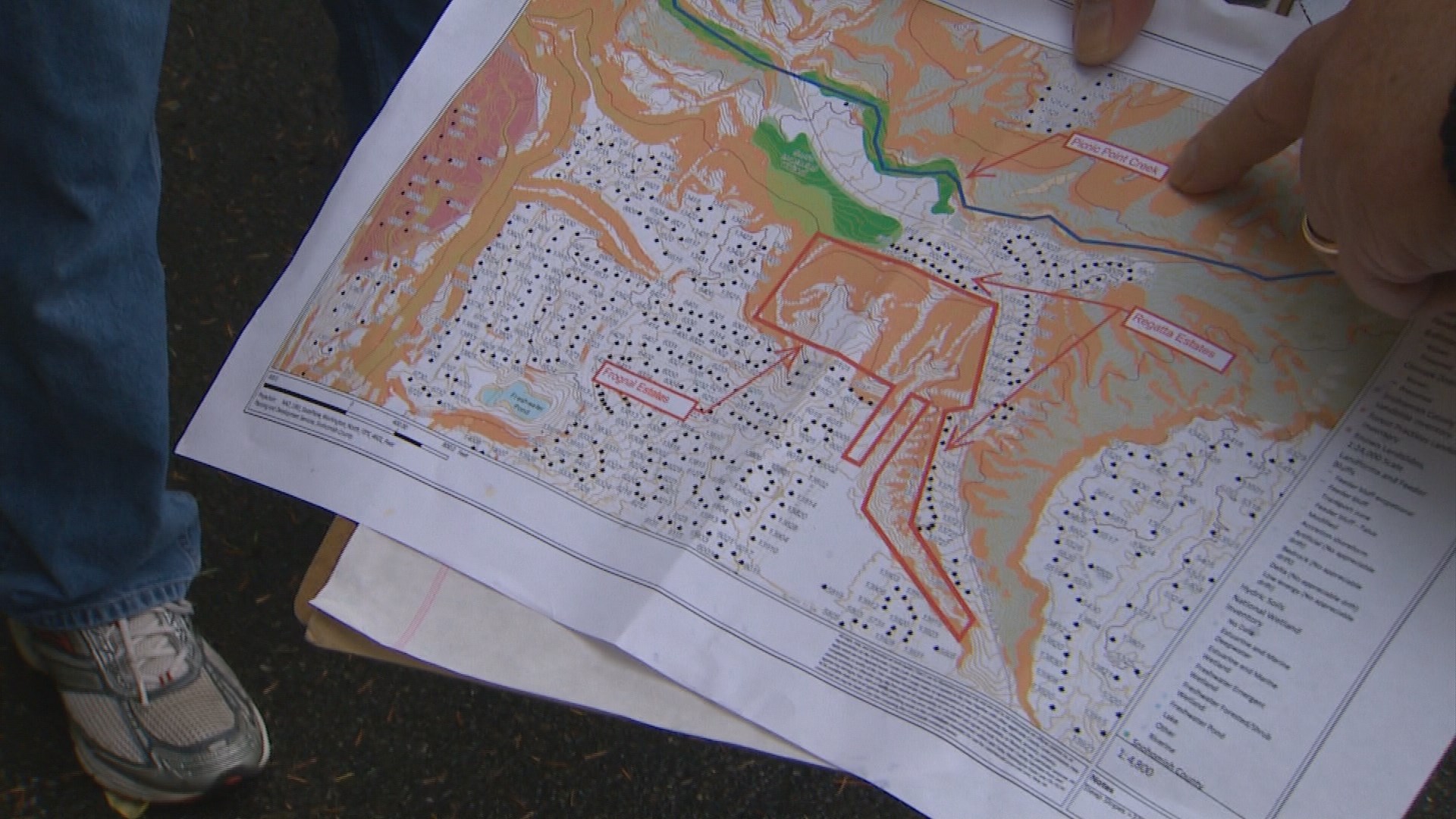 "The brown shows all the steep slopes around this area and you can see where all the development occurred," said Sno-King Watershed Council Board Member Bill Lider. "But this area here is all down slope of the development that's going to come through here."
There's also concern about how additional traffic will affect kids at a nearby school, along with increased stormwater into the local watershed, as Picnic Creek flows directly into Puget Sound.
Snohomish County admits landslide danger exists, but says it's minimal. They argue the developer has a right to log land that's privately owned.
"Snohomish County has received hundreds of letters and faxes and phone calls, but when they plan a meeting with the Snohomish County Council there's not enough room for everyone to sit," Julie Meghji said.