Response teams are caring for a live gray whale stranded in the Kalaloch area of the Olympic National Park.
According to NOAA, the 2-year-old female became stranded earlier this week just south of Brown's Point, east of Destruction Island.
It appears the 25-foot whale is in poor condition as if it's been struggling to feed, according to researchers. Aerial footage shows what appears to be blood or a red bodily fluid near the front and tail end of the whale, but officials say the whale is still alive and has made several attempts to swim during high tide but has been unsuccessful.
The critical timeframe for stranded whales is the first 24-36 hours.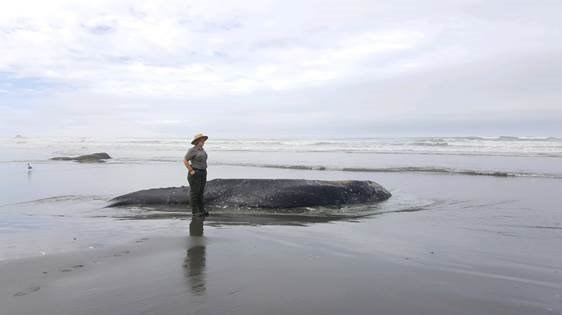 Teams have been trying to protect the whale from sunburns and scavengers in low tide. They're also keeping it as wet as possible. They've covered much of its body with damp towels.
Beach-goers should not approach or disturb the whale.