Note-taking can be a mundane and repetitive process that doesn't always help inspire innovative new ideas. But that all changes when Guillaume Wiatr puts pen to paper.
Wiatr, CEO and founder of MetaHelm, has become a fixture at the GeekWire Summit. The 44-year-old positions himself just off the main stage at the annual tech conference with a large white canvas that he uses to sketch drawings inspired by the fireside chats and panel discussions.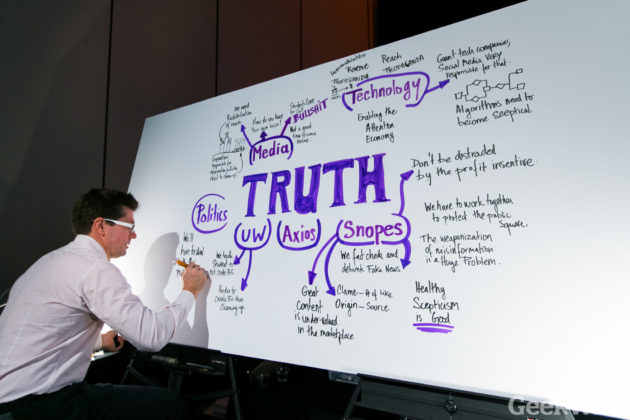 Wiatr joined us for the third-straight year last week at the 2017 GeekWire Summit in Seattle, where on-stage discussions ranged from Microsoft CEO Satya Nadella on developing breakthroughs in quantum computing, to Fred Hutch President Dr. Gary Gilliland on fighting cancer, to Washington Attorney General Bob Ferguson on battling Donald Trump.