The Seattle Seahawks survived a goal-line stand at the end of the game to defeat the Buffalo Bills 31-25 on Monday Night Football.
Buffalo quarterback Tyrod Taylor led the Bills inside the Seattle 10 in the final seconds. Taylor was sacked by Cliff Avril on third-and-goal from the 8 and on fourth-and-goal Taylor's pass into the end zone fell incomplete.
Russell Wilson looked very much like his old self, going 20-for-26, 282 yards, two touchdowns, and no interceptions. He also had his first rushing touchdown of the season.
Tight end Jimmy Graham played like a man possessed. He had eight catches for 103 yards and two highlight reel touchdowns. Both of them were one-handed and both while Bills defenders blanketed him. He also hurdled a defender after catching another pass in the third quarter.
.@TheJimmyGraham.
With one hand.
That is all. 😱 #BUFvsSEA pic.twitter.com/p2AwbVhs2x
— NFL (@NFL)
November 8, 2016
Not again, @TheJimmyGraham...
Oh yeah. He did it again.
ONE. HANDED. TD. 😱 #BUFvsSEA https://t.co/LdVHKwMm2l
— NFL (@NFL)
November 8, 2016
Doug Baldwin added six catches for 89 yards, and Tyler Lockett had five touches on offense and special teams for 93 yards.
The game did not come without controversy. Seahawks cornerback Richard Sherman collided with Bills kicker Dan Carpenter just before halftime on a field goal attempt. Sherman was not called for unnecessary roughness, but the NFL later said he should have been flagged.
Sherman also picked off Taylor in the end zone in the second half.
The Seahawks were again at a major disadvantage in the time of possession category. The Bills held the ball over 40 minutes. That included a 10-minute, 75-yard drive in the first quarter. It's the third straight game in which the Seahawks were dominated in time of possession. They are 1-1-1 in those three games.
Seattle played without starting defensive end Michael Bennett and strong safety Kam Chancellor.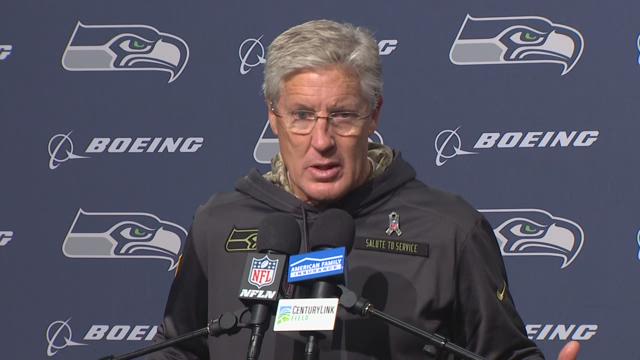 The Associated Press contributed to this report.