'5 to share' is a daily take on what's interesting around the Seattle region, the world, and what's happening at KING 5. Sign up here for our newsletter.
Raindrops aren't falling on my head!
After a record rainfall earlier this year, Mother Nature turned off the tap June 17th and we haven't had a drop since. As of today, we've had 38 consecutive dry days - the record is 51 dry days set back in 1951. The dry spell just needs to last until August 9th to beat that record, and nothing in the long range computer models looks like rain. For those of you who miss our rain, might we suggest a trip to a local spray park or a drive through the car wash in a convertible?
If you like coffee and you're a Seattle-ite
(that means pretty much all of you), then chances are you've been into a Caffe Vita before. They've been around for more than 20 years and have tons of locations. But did you know that they're so popular they've expanded to Portland, Los Angeles, and even New York City? Whoa... That's big time. We tested the Pac Nor, per recommendation from a viewer, which is basically their version of a cortado, and let me tell you, it was gooooood. Visit our site for more of this week's trending topics, like the #HipDip.
Ladies, show off a bit of décolletage, as they say in Paris
That's one bit of fashion advice from actress Rebel Wilson who visited the downtown Seattle Nordstrom last weekend to kick off her new fashion line, Rebel Wilson X Angels. Her favorite thing about her fans? "The women who come up to me feel really real and genuine", says Rebel. She's hoping to return some of that love by giving her plus size fans more choices, and more clothes that inspire confidence.
Microchip Management
Is this a glimpse into the future? A tech company in Wisconsin wants to microchip employees – which would allow building access and meal purchase. The tiny chip would implant between the thumb and forefinger and operate on RFID technology. Employees can decide to opt out. See which company is already using microchips.
The guy behind the major artists
You might not recognize the name Andrew Joslyn, but we can almost guarentee you've heard his music. The violinist has been backing up Macklemore since 2011 and he most recently played on Kesha's new hit "Praying". It all started when his famous older brother encouraged his love of music and now, he finds himself playing in front of millions.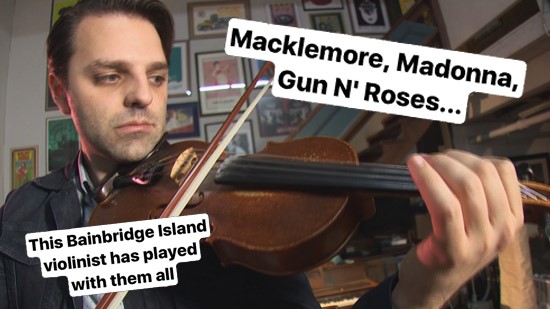 WHAT ARE YOU DOING TODAY? WED 7/26
NEIL DIAMOND 50TH ANNIVERSARY TOUR, 8 PM, KeyArena at Seattle Center