SEATTLE, Wash. -- On a Tuesday evening in July, Mike Cummings strolled into the Men's Wearhouse store in downtown Seattle with a charcoal gray suit he planned to donate to the store's annual suit drive.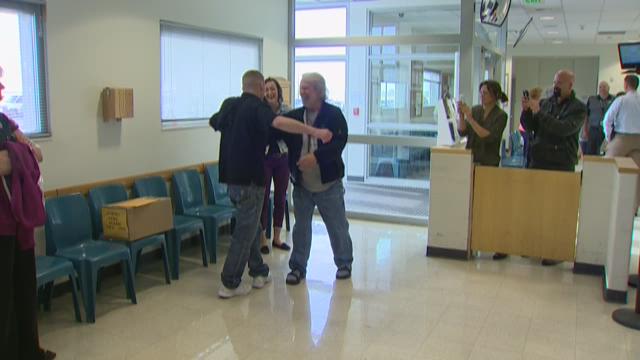 "I just wanted to bring it in and benefit somebody else because it benefited me over the years," said Cummings, who admitted he hadn't worn the suit in two decades.
The suit drive collects a quarter million used suits every year and distributes them to hundreds of charities and non-profit organizations.
Men's Wearhouse agreed to let us follow Mike Cummings' donated suit and find out who its new owner will be.
A week after he donated it, a large delivery truck collects the donated suits and transfers them to a warehouse in Puyallup.
Here, another transfer takes place.
A small minivan arrives with an army of volunteers. They stuff as many donated designer suits as they can into the van and haul them to their headquarters in downtown Seattle.
This is where the Post-Prison Education Program sorts and stores its donations.
"You can't put a price on it," said the program's director, Ari Kohn. "You come out of prison, you're completely dis-empowered, you're beat down, so something that puts you in a really positive frame of mind is nice."
Kohn's non-profit matches donated suits with prisoners about to be released.
In the case of Mike's old suit, Kohn and his team decided it will probably fit a 39-year-old felon named Keith Whiteman.
When Mike donated his suit, Whiteman was still locked up at the Coyote Ridge Corrections Center in Eastern Washington.
He was serving 3 and a half years for various felonies, including identity theft.
"I don't want the first thing someone thinks is this guy is an ex-convict," said Whiteman, who agreed to talk to us from his cell on the night before his release. "I would like to say, 'thank you, you're really helping me a lot.'"
Kohn carefully selects prisoners to participate in his program, which helps guide them through life on the outside world after their release -- beginning with a new suit.
The next morning, Whiteman walks out of Coyote Ridge with nothing but a box of old clothes and $40 in his pocket.
Kohn and his staff drove to the prison to pick Keith up and take him to Seattle to get fitted for the suit.
"I feel grateful and blessed," said Whiteman, standing outside of the prison walls for the first time in 36 months. "I feel like I got another chance at making it."
The same day, Whiteman gets fitted with the suit.
A week later, Kohn drives him to Pierce Community College, where he enrolls in classes for a bachelor's degree and begins registering for work-study jobs.
"What he has to do is stay in clean and sober environments, positive environments, like a college campus," said Kohn. "And stay away from stupid people doing stupid things."
"It feels like a new beginning," said Whiteman, proudly wearing his 42-regular suit as he greets his adviser and other professors.
Four months after donating the suit, we showed the video of Whiteman and his prison release to Mike Cummings, who didn't know who was going to benefit from it.
Turns out - Mike has a connection to prisoners.
Growing up in New York, his parents volunteered for a program that helped ex-prisoners find work.
"One of the guys who my mother made friends with got out of prison. We had given him a place to live in New York City with us while my dad got him a job. And I even shared a room with him," said Mike.
"I feel like it's come full circle."