From Los Angeles to Seattle, homelessness has reached crisis level, according to local leaders. As a result, West Coast mayors have created an "alliance on homelessness."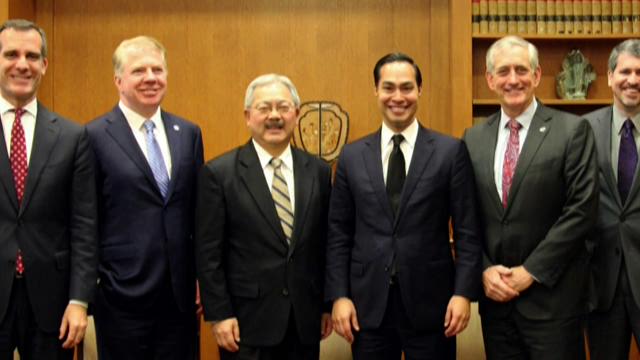 Seattle Mayor Ed Murray, along with the mayors of Los Angeles, San Francisco, Portland and Eugene, all met in Portland on Thursday as part of a "West Coast Mayors Summit."
U.S. Housing and Urban Development Secretary Julian Castro and the executive director of the U.S. Interagency Council on Homelessness joined them for discussions of the issue.
"We don't have enough data to even understand what is causing the homelessness we have in the streets of our cities, so data is one of the things we want to do better," Mayor Ed Murray said.
"West Coast cities are some of the most innovative cities in America. We have very low unemployment. We actually have really, really generous human service support, so we are somewhat confused as to what is it in the West Coast that we aren't getting right that is causing this problem in our cities," he said.
The mayor's office says they're "committed to working together to collect better data to understand the problem," as well as analyze the practices that are most effective.
"We all know that our service delivery systems are very generous, but we also know they can be more efficient, so focusing on best practices is one of the ways we believe we can begin to address our growing crisis," said Murray.
Next year, the City of Seattle will spend nearly $50 million to address homelessness, after Seattle City Council allocated additional emergency funding. Part of the total budget includes federal funding. The city and county received $28 million in federal homeless assistance grants last January.
However, Murray says overall federal funding has declined in recent years.
"Over the last five years, Seattle has lost one third of its federal money for affordable housing and homeless issues, so the federal government is actually stepping back from being our partner. We need them to step back up again," said Murray.
The mayor says he's asking for "a restoration of funding," continued assistance with veterans homelessness and additional funds for addiction treatment and mental health.
"We can solve this problem. But to some extent, the entire nation, to quote Mayor Garcetti (of Los Angeles), is flying blind as far as understanding what is going on in those tents we see along our freeways; what is going on with the people who are sleeping in the streets," said Murray. "Yes, it's partly addiction; yes it's partly mental health; yes it's partly the fact that income inequality is destroying the middle class, but there's something else that's seems to be happening in the West Coast, and we have got to find out what the answer is and get people into safe secure homes."