The Clinton and Sanders campaigns have a little more than a week to win over Washington's Democratic voters and get them to caucus.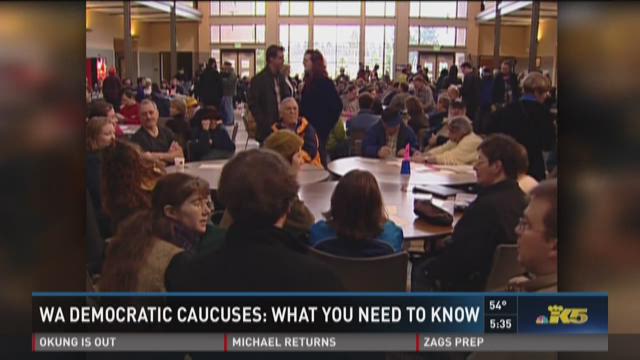 The Washington State Democratic Party says so far 50,000 people have pre-registered online, more than 60% of them between 18 and 34 years old.
"My numbers have been going up each week," said State Party Chair Jaxon Ravens. "I'm fairly confident we're going to break 100,000." 
That's under the total number of people, 250,000, who took part in 2008 when President Obama won Washington. However, Ravens says both campaigns have committed to playing in this state.
"I think it's going to be a close race. I think there's still a lot that can happen between now and then. We're going to see if Sec. Clinton and Sen. Sanders show up in Washington, and where they show up. I think that will have a big effect as well," said Ravens. 
In a memo sent to media following Hillary's wins on March 15, her campaign strategist, Robby Mook, acknowledged Sanders "is poised to have a stretch of favorable states to vote, including five caucuses next week, which he is likely to win." 
Washington, along with Idaho, Utah, Alaska and Hawaii hold caucuses next week; Arizona holds a primary.
However, the memo goes on to say, "Our pledged delegate lead is so significant that even a string of victories by Sen. Sanders over the next few weeks would have little impact on Sec. Clinton's position in the race." 
Senator Sanders has said he will stay in the race until the Democratic convention in July. 
What you need to know about the caucuses on the 26th
"Think of it like a block party," said Jaxon Ravens who encouraged people to "pre-check" on the Washington State Democratic Party's website. "You're getting together with your neighbors; you're getting together with your friends, talking about issues and politics in your community."  
That's where you can also find your precinct location. 
If you cannot make it to the caucus for medical, religious, military or employment reasons, you can fill out a surrogate affidavit. The deadline is this Friday the 18. 
If you do plan on attending the caucuses, Ravens recommends arriving about a half an hour before the official start time of 10 a.m. 
Following introductions, the initial ballot is cast. Then it's time for a break during which time discussion and speeches can be used to try and sway caucus goers. 
"It's an opportunity for supporters of candidate x or candidate y to say how they feel and express why they support their candidate and to encourage supporters of the other candidate or any undecided attendees that they should really switch their vote," said Ravens. "There will be people wearing their colors and speaking from their hearts."
The second round of voting takes place after that, results that will determine the outcome and delegate allocation. Washington state has 101 pledged delegates and 17 super delegates that include Washington's congressional delegation as well as party officials.