SEATTLE - Jenny Durkan had planned on quietly stepping aside as U.S. Attorney next week. But she's now at the center of a swirl of speculation.
On Thursday, following the sudden resignation of Attorney General Eric Holder, her name was thrown into the middle of it all. NBC News reported a Democratic aide suggested Durkan was a candidate. The Washington Post took it a step further, saying "people familiar with the search" said Durkan is a contender to replace Holder.
Durkan was appointed as U.S. Attorney for the Western District by President Obama back in 2009. She declined to comment on any speculation Thursday. Her spokesperson Emily Langlie said she was not on a plane to D.C. Durkan later released a statement, reading in part, "For six years Attorney General Holder has led the Department of Justice with honesty, integrity and a profound commitment to justice. He has worked tirelessly to keep our country and our people safe. It has been my privilege to work with Attorney General Holder for five years. I am grateful for his service and wish him well as he returns to private life and new challenges."
Durkan earned respect from lawyers, and critics, for her handling of the Seattle Police Department reforms and prosecution of cyber crimes.
"Her integrity is beyond reproach. She is very smart, she has a strong academic background, and we've seen her smarts her entire career. She has a lot of wisdom," says Mike McKay, a Republican and former U.S. Attorney himself. He says, putting politics aside, "We'd be very lucky to have her back at main justice in Washington, D.C."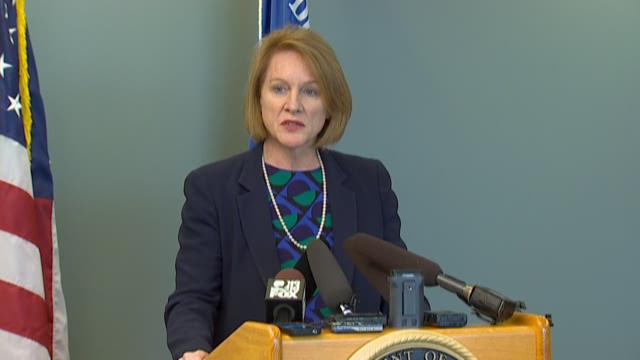 McKay, who was a Bush appointee and has chaired multiple Republican political campaigns, says Durkan has been able to put politics aside.
"That doesn't play a significant role when you're Attorney General. You need to follow the law, you need to enforce the law, and you need to do it in an honest way, and I don't think there is anyone on the Democratic side of the aisle to do that (besides Durkan)."
McKay says Durkan is a dear friend, and he's known her family for more than 50 years. With that he said, "Recognizing if a Republican is in the White House, I would not support her nomination, but since there is a Democrat in the White House, I could not think of anyone better to serve as Attorney General of the United States."
Durkan is the first openly gay U.S. Attorney is history, and LGBT groups have been quick to advocate for her candidacy.
Torey Carter, the managing director of the Gay & Lesbian Victory Fund told Buzzfeed: "It will be a huge milestone if the president chooses a qualified LGBT American like Jenny Durkan. It would send a signal that experience and ability matter a lot more than gender or sexual orientation, and that would matter a lot to young people who worry they can't be authentically themselves and still succeed in life."
Any nominee would still need Senate approval, and political observers have suggested that Republicans could win that body this fall, complicating Obama's decision.