WASHINGTON — Republicans and Democrats took the field for their annual charity baseball game Thursday, setting aside politics for a few hours of spirited competition a day after a shooting rampage left a wounded colleague fighting for survival.
The Congressional Baseball Game for Charity took on a serious meaning this year, as organizers and attendees said it was a chance to show the nation that more unites Americans of both parties than divides them, and that the event could not be shut down by a gunman.
"I have some friends who are interns who were talking about going, and after the shooting, I mean, I have to go," said Emily Cleveland of Danville, Ill., as she entered Nationals Park for the game. "I think it's a big statement that they're still having it. I think it's saying a lot because it's America's pastime. It's a really American thing to do, to just go ahead anyway."
A gunman opened fire on the Republican baseball team's practice on a suburban Virginia field Wednesday, critically wounding Louisiana Rep. Steve Scalise and injuring three other people as horrified legislators and staffers scrambled for cover amid a barrage of bullets.
Scalise, the third most powerful Republican in the House, was shot through the hip and was listed in critical condition at Medstar Washington Hospital Center Thursday after undergoing a third surgery.
"He's in some trouble," President Trump said during a jobs event at the White House Thursday, calling Scalise a "great fighter."
Lawmakers donned Louisiana State University ball caps in Scalise's honor.
Rockin our LSU hats before the big Congressional baseball game, in solidarity with Steve Scalise pic.twitter.com/DJdPWsFGsG

— Rep. Jared Huffman (@JaredHuffman) June 15, 2017
Just before the game, Democratic and Republican players knelt together in prayer near second place, where Scalise would have been playing. The crowd chanted "USA! USA!"
Later, the crowd burst into applause as Capitol Police officer David Bailey — who was injured as he pursued the shooter — hobbled to the mound on crutches and tossed the ceremonial first pitch.
President Trump delivered a videotaped statement, saying the playing game this year is evidence that "we will not be intimidated ... the game will go on."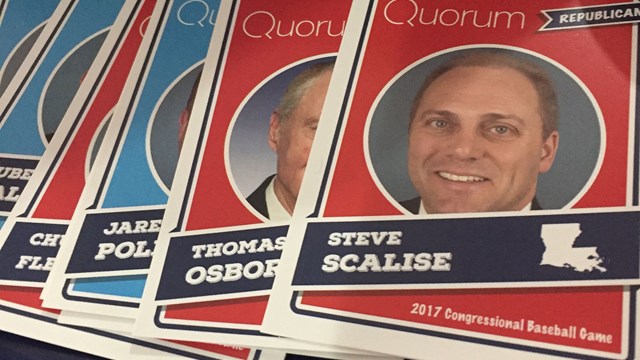 Capitol Police, who provided security for Scalise during the practice, killed the shooter, identified by authorities as James Hodgkinson, 66, from Belleville, Ill. Two lawmakers who were leaving practice when they encountered Hodgkinson before the shooting believe he was targeting Republicans.
The Nationals had to loan the Republican team catcher's gear because their equipment is in evidence, Washington Post reporter Robert Costa tweeted.
The Nationals had to loan the Republican team catcher gear because their equipment is in evidence, per a person familiar with the exchange.

— Robert Costa (@costareports) June 16, 2017
The shooting only drew more people to the game Thursday evening.
"Last year we set records with $500,000 raised for charity and 10,000 fans, and already we're topped $1 million in donations and sold more than 20,000 tickets" before game time, said Sean Brown, a volunteer with Congressional Sports Foundation that organizes the event.
That total was all pre-game online sales, and almost half of it came since Wednesday, Brown said.
Rep. Cedric Richmond, D-La., the starting pitcher for the Democrats, told reporters before the game that about 10,000 people usually attend the game each year. A stadium official said that about 22,000 had come through the gates around the time the game started.
"Were in town because we're tourists and I mean I heard about the shooting and I was like, 'Wow, it would be cool to come today to show support for the congressmen,'" said Otis Amick of Phoenix. "I think a good turnout today would be a good statement against what happened yesterday."
Steve Pastorkovich came to the congressional baseball game – his first ever – because he wanted to show solidarity and make a case for respectful disagreement.
"A lot of people in Washington want to make things better," said the former Republican National Committee staffer who now works for a telecom trade association in Arlington, as he ate a sausage and sipped a beer. "You may disagree about your goals but we're better than that. We make our arguments, and put it to the people and that's the way it goes."
In a joint interview with CNN, Speaker Paul Ryan, R-Wis., and Minority Leader Nancy Pelosi, D-Calif. — both decked out in LSU garb — said the game was a symbol of unity for a divided congress.
"Tonight we are all Team Scalise," Pelosi said.
Support for Scalise was everywhere. Some wore shirts that read "Team Scalise" while others held up signs that read "Let's Geaux!"
Ryan said he hoped the bipartisan showing among members of Congress would help set an example for the nation and help tone down the country's polarizing rhetoric. And he said lawmakers needed to find more ways to get to know each other as people, not just political opponents.
"We need to find more opportunities for Republicans and Democrats to break bread, I mean literally just go have meals with one another, travel with each other, do things with one another," he said. "There are not enough relationship-building exercises between Republicans and Democrats. We've got more work to do on that."
The congressional game has been a tradition for more than a century.
The first congressional baseball game was organized Rep. John Tener of Pennsylvania in 1909 where the Democrats prevailed 26-16.
The game has been held most every year since, interrupted by major events such as the Great Depression and World War II. Democrats and Republicans each have won 39 times and tied once.
Louisiana Rep. Cedric Richmond, the Democrats' star pitcher, said he and Scalise are close friends and work together on many local issues, but there's an intense rivalry on the baseball field.
"We will miss Steve on the field," Richmond said just before the game and after visiting Scalise in the hospital.
Despite all the talk about bipartisanship in the wake of the shooting, Richmond said the game will be very partisan.
"We will go at it," he said. "I know Steve wouldn't have it no other way."
This year, the charities that will benefit include the Washington Literacy Center, The Boys and Girls Club of Greater Washington, and the Washington Nationals Dream Foundation.
Contributing: Emma Kinery, Katherine Fitzgerald and Deborah Barfield Berry