A woman and her horse were killed after they were struck by lightning in Sedalia on Sunday afternoon.
According to South Metro Fire Rescue, it happened a few hundred yards behind a home on the 7000 block of Rainbow Creek Road on a riding path.
The Douglas County Sheriff's Office tells 9NEWS a 37-year-old woman was killed around 3:30 p.m. Her name has not been released.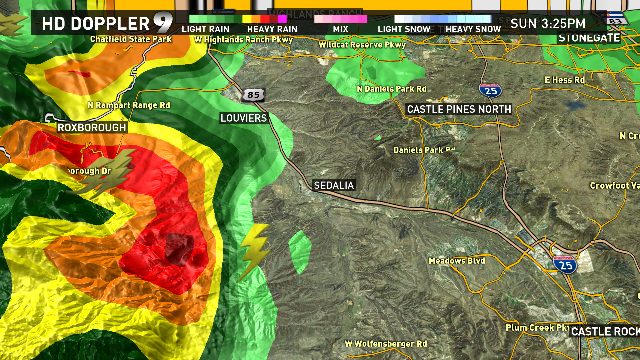 A 15-year-old girl was also seriously injured and taken to the hospital. South Metro says this girl, a family friend, was also riding a horse. A third rider, who turned out to be the mother of the 37-year-old, was far enough away at the time and uninjured.
The three saw the storms, and were looking for a place to meet up.
1 of 2 - SMFR assisted West Douglas with a tragic scene on Rainbow Creek Rd this afternoon. Lightning killed 1 adult female and her horse.

— SouthMetroFireRescue (@SouthMetroPIO) May 7, 2017
2 of 2 - A teenager was also seriously injured and transported to the hospital. @dcsheriff will handle all PIO / media requests.

— SouthMetroFireRescue (@SouthMetroPIO) May 7, 2017
Lightning is the number one weather-related killer in Colorado.
Details at this time are extremely limited. 9NEWS will update this story as more information is released.