Ballots should be in your mailbox and candidates will spend the remaining 12 days fighting for every last vote until Election Day on November 7.
So which neighborhoods could make or break Seattle's mayoral race?
Heat maps, created by Joseph Liu of KCTS 9, detailing the August primary precinct results could provide some clues about the target areas in the week ahead.
Former U.S. Attorney Jenny Durkan's top neighborhoods included the outer-rim of the Seattle, described by political analyst Marco Lowe as the more moderate "establishment" neighborhoods.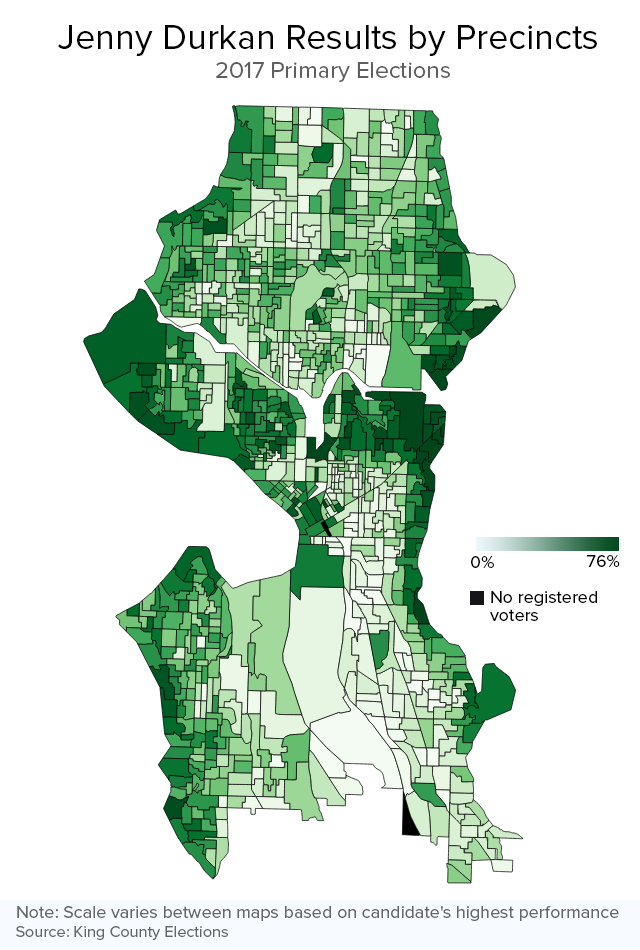 Jenny Durkan Results by Precincts
"Water views, bigger homes, wealthier voters," said Lowe, pointing to the map.
"Cary Moon is exactly the inverse," he said, turning to the map of her results. "You see these votes inside, especially this bloc here on Capitol Hill, you would call The Stranger voters."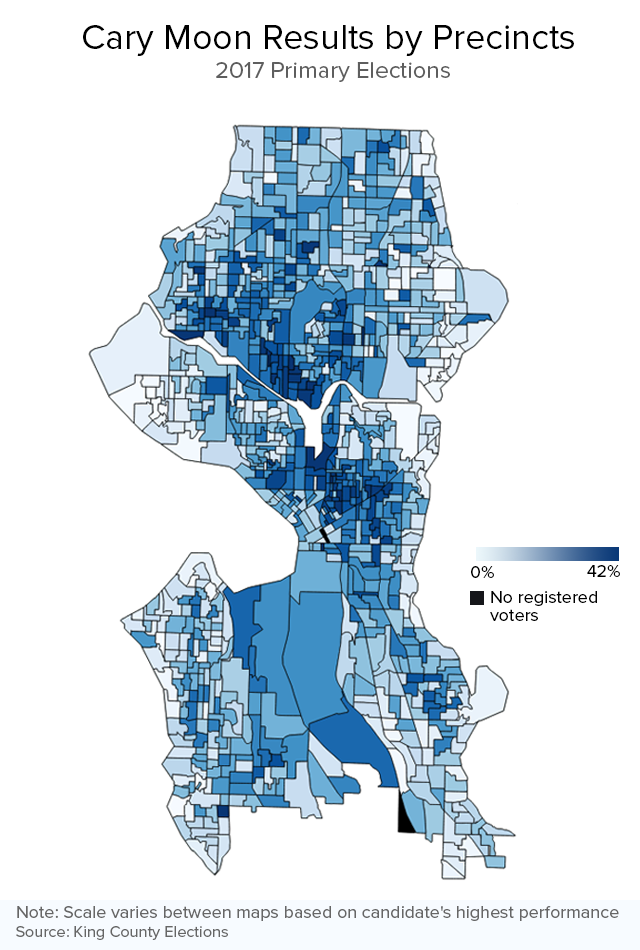 Cary Moon Results by Precincts
Related: Ben Anderstone's analysis of primary results for Crosscut
Lowe says the fight for votes ahead of the general election will be fought hardest in the lighter shaded neighborhoods where both candidates have an opportunity to make ground and pick up support.
"The battle will be right in between the two," Lowe said referencing the outer rim versus the inter rim of the maps. "It's this little ring of precincts that tend to be where the transition is between the more expensive housing and more dense, less expensive housing and those voters are often the ones that decide mayor's races in Seattle."
In a very unscientific 'person on the street' poll, KING 5 three different neighborhoods around Green Lake, Phinney Ridge and Columbia City and found a number of voters still undecided or split.
Voters leaning towards Durkan cited experience as a factor for them.
"She has more experience making tough decisions, so I'm tending to think I'd vote for her," said voter Kay McCorkell.
"I've been thinking a lot about it," said voter Marie Donadio. "It's mostly because she's already plugged in politically and will be able to hit the ground running in a way that I'm not sure Cary Moon will."
Meanwhile, voters leaning toward Moon said they're drawn to a candidate who's not status quo.
"I get the sense that she's the least corporate of the two in terms of her priorities," said Grace Gonzalez.
"One thing I liked about Cary Moon is she mentioned a couple times her willingness to go to Olympia and fight things on that level," said Forrest Marowitz.
Marowitz supported Nikkita Oliver, who finished third in the August primary. Oliver, who hasn't endorsed ahead of the General Election, energized a loyal following and performed especially well in South Seattle.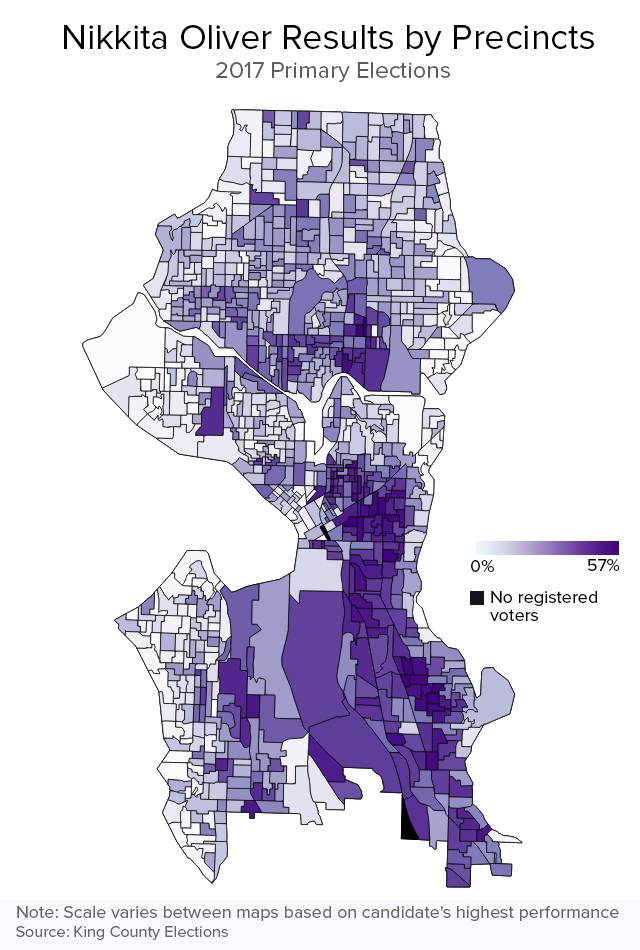 Nikkita Oliver Results by Precincts
"I'm just watching to see who she supports," said Oliver supporter Obadiah Freeman, who says he's not sold on either of the remaining candidates.
"For me personally, I don't really pay attention unless someone is speaking to issues that are new to us, or at least new to the debate," he explained. "Right now, it doesn't feel like there's a very inclusive debate going on."
Other voters, meanwhile, are still having trouble discerning differences in a race and a city that becomes a battle between shades of blue.
"This is Seattle. It's not like we're choosing from two completely different candidates," said Joan Mamelok.