After learning his town of Edmonds had virtually no monuments for our nation's war veterans, Ron Clyborne decided to build one.
Three-and-a-half years later it's now a reality.
Every time Clyborne walks into Edmonds Veteran's Plaza, it's a homecoming, of sorts – a homecoming a lifetime in the making.
"To be able to share this space is very moving," he said.
He shares that space with the memory of his birth-father, Clarence Clyborne, who died as a Japanese prisoner during World War II.
Ron Clyborne was just three months old.

More than 70 years later the ghosts of the father he never knew sent Clyborne on a mission.
"They deserve a legacy, and I was going to make sure that was going to happen," said Clyborne.
The Vietnam veteran found out several years ago that the only memorial for the city's veterans was a small stone outside the local museum.
"It pissed me off, actually," said Clyborne.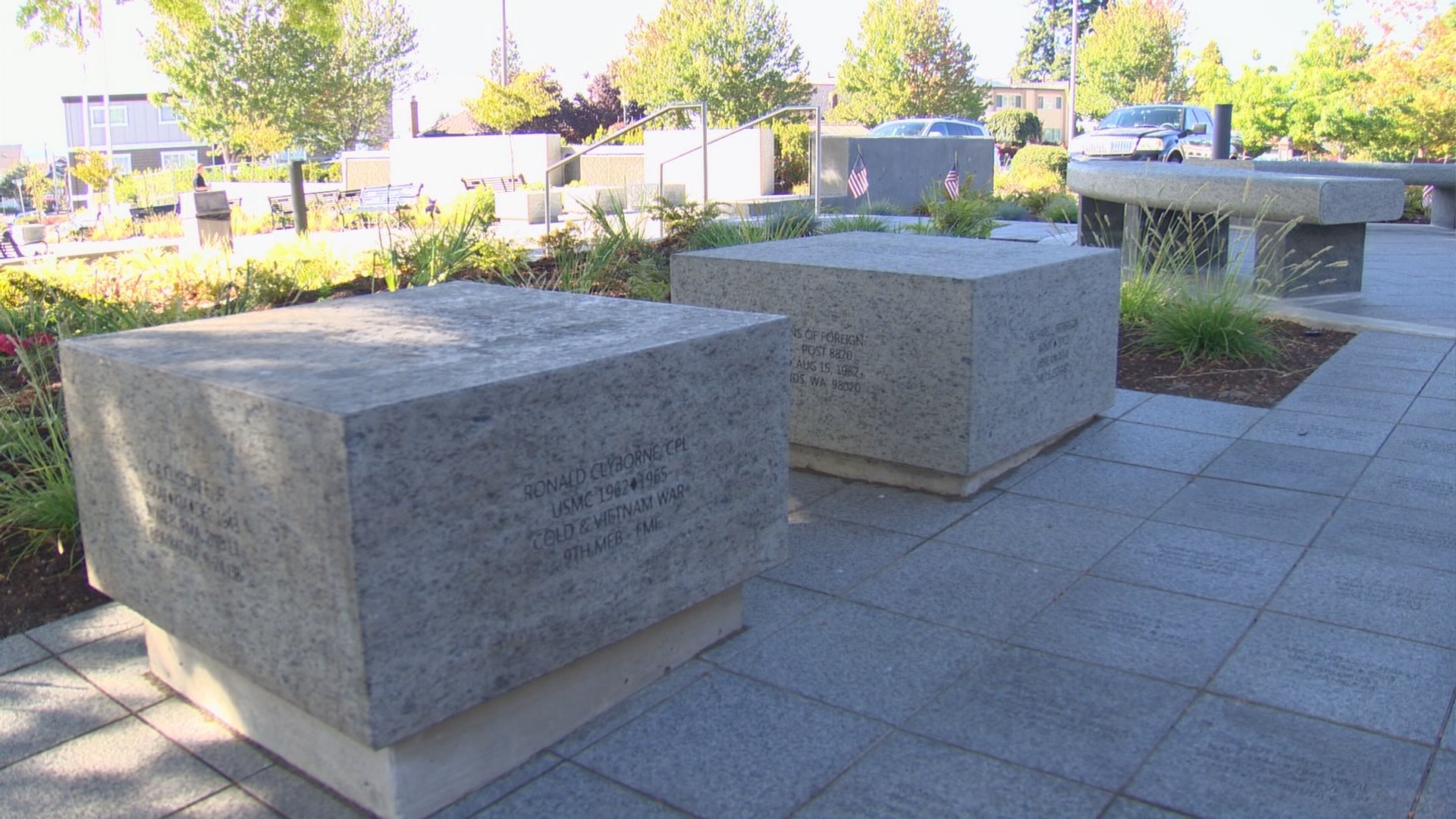 He helped raise $550,000 for the sprawling memorial located outside the Edmonds Police Department. The plaza was dedicated this past Memorial Day.
"I'm proud as hell of this. I really am," said Clyborne.
Among the names written in stone at the plaza is that of the father who raised Clyborne.
Cpl. Charles Berls was a Marine Corps vet who fought at Iwo Jima.
Clyborne's father-in-law, Anthony Andersen, was a certified Vietnam war hero, and the recipient of the Distinguished Service Cross, Silver Star, and Purple Heart. His name is permanently inscribed here, as well.
'Without sounding melodramatic, I've cried at least three or four times, here," said Clyborne. "It's a lot of memories."
Clyborne, himself, is a Marine Corps Vietnam veteran.
It's a military brotherhood that never forgets sacrifices made by those who made it home, those who didn't, and those whose whereabouts still remain a mystery.
In Clyborne's case, it's man born of three fathers who loved their country, and a son who loves them more than words can say.
"It just touches my heart and touches my soul every day," said Clyborne.
Clyborne is trying to raise another $20,000 to install an electronic kiosk in the plaza that would help connect veterans with social services, counseling, as well as employment and educational opportunities.
An upcoming cocktail competition fundraiser is scheduled for October. For more information on how you can help, click here.