Expecting to travel over the passes for Thanksgiving or Apple Cup? A series of storms will bring snow to the mountain passes, with the heaviest snow falling on Thursday.
We should see a little bit of a break between storms Wednesday with off and on snow showers in the passes. This should give us decent driving conditions across the passes through about mid-afternoon. Then the snow will begin to increase.
The snow level will be near 3,000 feet Wednesday, so don't be surprised to see a rain-snow mix at Snoqualmie Pass at times, but that should help to keep the roadway in good shape. Overall, we may see 1-4 inches of new snow Wednesday in the highway passes.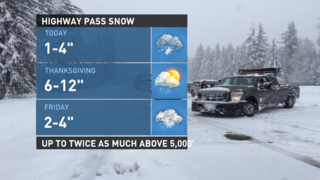 Note that Cayuse and Chinook passes will be closed at 10 a.m. Wednesday; forecasters anticipate heavy snowfall over the next couple of days. Don't be surprised if they don't reopen this winter.
Also remember that Highway 20/ North Cascades Highway is now closed for the winter.
Snow may begin to increase later Wednesday afternoon in advance of a strong fall storm that will bring heavy snow to the mountains Thanksgiving Day. Travel across the passes will be difficult on Thanksgiving. It will also produce heavy rain and gusty winds to the lowlands.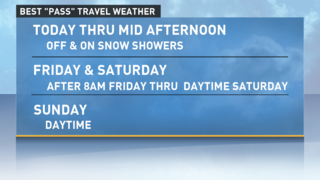 Actually, two fast-moving storms will ripple through on Thursday, keeping us wet in the lowlands and snowy in the mountains. There will be gusty winds, with the strongest north of Everett. However, even though it will be blustery, it's unlikely that the winds will cause any widespread problems.
The storm system will move east of Puget Sound and the Cascades by mid-morning on Friday and showers should decrease quickly for improving driving conditions.
Although showers will continue Friday through Saturday overall, it shouldn't be too bad for travel. We may see an increase in mountain snow on Saturday night, but it should just be a few showers left during the day on Sunday. Showers in the mountains may increase again on Sunday night.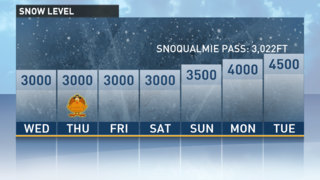 Related stories:
Thanksgiving drive charts: Best and worst times to travel