Thank you to all of our veterans! Each one of you has sacrificed to serve our country and protect our freedoms. Amongst this group is a veteran that has a special place in my heart. His name is Brendan Kane and he is my little brother.
Brendan enlisted in the United States Marine Corps right out of high school. When he announced his decision to enlist a lump immediately formed in my throat because I was concerned about the horrors of war my little brother might experience. Thoughts of PTSD and hazing popped into my head and I wasn't ready for Brendan to lose his innocence. Leading up to his enlistment and for the beginning part of his service I would tear up when hearing the national anthem. Those tears were both of pride for Brendan doing something I didn't have the courage to do myself and fear for how that courage would change his life.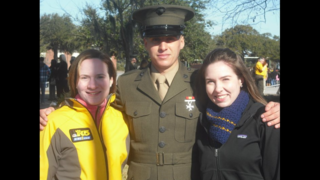 I flew from Washington to South Carolina to surprise my little brother at his graduation from basic training at the Marine Corps Recruit Depot Parris Island. As soon as the ceremony was over I went running from the stands and I was the first in our family to give Brendan the biggest hug I could. He said I was the first person in our family that he saw in the audience but didn't think that was right because he wasn't expecting me to be there. To this day that was the best surprise I have ever been able to pull off!
Unfortunately, Parris Island was the last place I saw Brendan before my husband and I got married later that year. Brendan was unable to get leave to come to Seattle. Finding that out broke my heart. I was able to Skype with Brendan just moments before the wedding started and of course I started to cry because I was so sad my little brother wasn't there to see one of the most important moments of my life. During family photos we did take a picture with the United State Marine Corps flag and that is one of my most cherished photos from the wedding.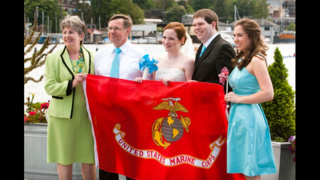 Just weeks after the wedding Brendan got sent to NAS Lemoore in California. The timing was ironic because if he had been there when we got married he could have flown up to Seattle for the weekend to be part of the celebration and not missed any of his responsibilities on base. A month after the wedding my husband and I flew down to see Brendan and had a fun weekend going to see the Redwoods and a minor league baseball game.
Brendan spent most of his military career based in Iwakuni, Japan and for that I'm grateful. While he was there I didn't have concerns about him being deployed to Iraq or Afghanistan and seeing the front lines of war. I always enjoyed Skyping with him when we could.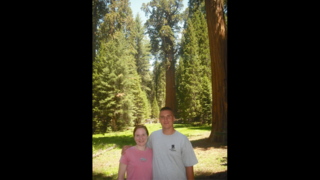 The Marine Corps matured my little brother from a boy to a man. It was the right decision for him to enlist when he did but as a big sister I was relieved when he decided he was not going to reenlist and reenter life as a civilian. I wanted him to do it sooner than later only because I know that transition can be harder the longer you are in the service. My brother is now back in the states and going to college. He has aspirations to be an aeronautical engineer and work for Boeing. If that happens and he lives in the Seattle area this big sister wouldn't be happier!
Brendan, I love you dearly and I thank you for your service to our country!