The Seattle Department of Transportation gave a walking tour Thursday of the next major transportation construction project in the city: The Fauntleroy Boulevard Project.
Staff members took residents and businesses on a tour of the planned makeover for the main entrance to West Seattle, one of several projects planned throughout the city.
For decades the entrance to West Seattle has always been a bit of an eyesore, but that is about to change.
"We'll be putting the traffic signals on mast arms instead of wires, so that will reduce some of the overhead wires you see," Rachel McCaffrey, the SDOT outreach lead, told a group of about 25 people.
"I'm really looking forward to the improvements," said Marci Carpenter, a vision-impaired woman, who walks the neighborhood.
"I heard one car pulling off the street and driving up the sideway where we needed to walk [on the tour]," Carpenter said. "It's not safe. I still don't feel safe."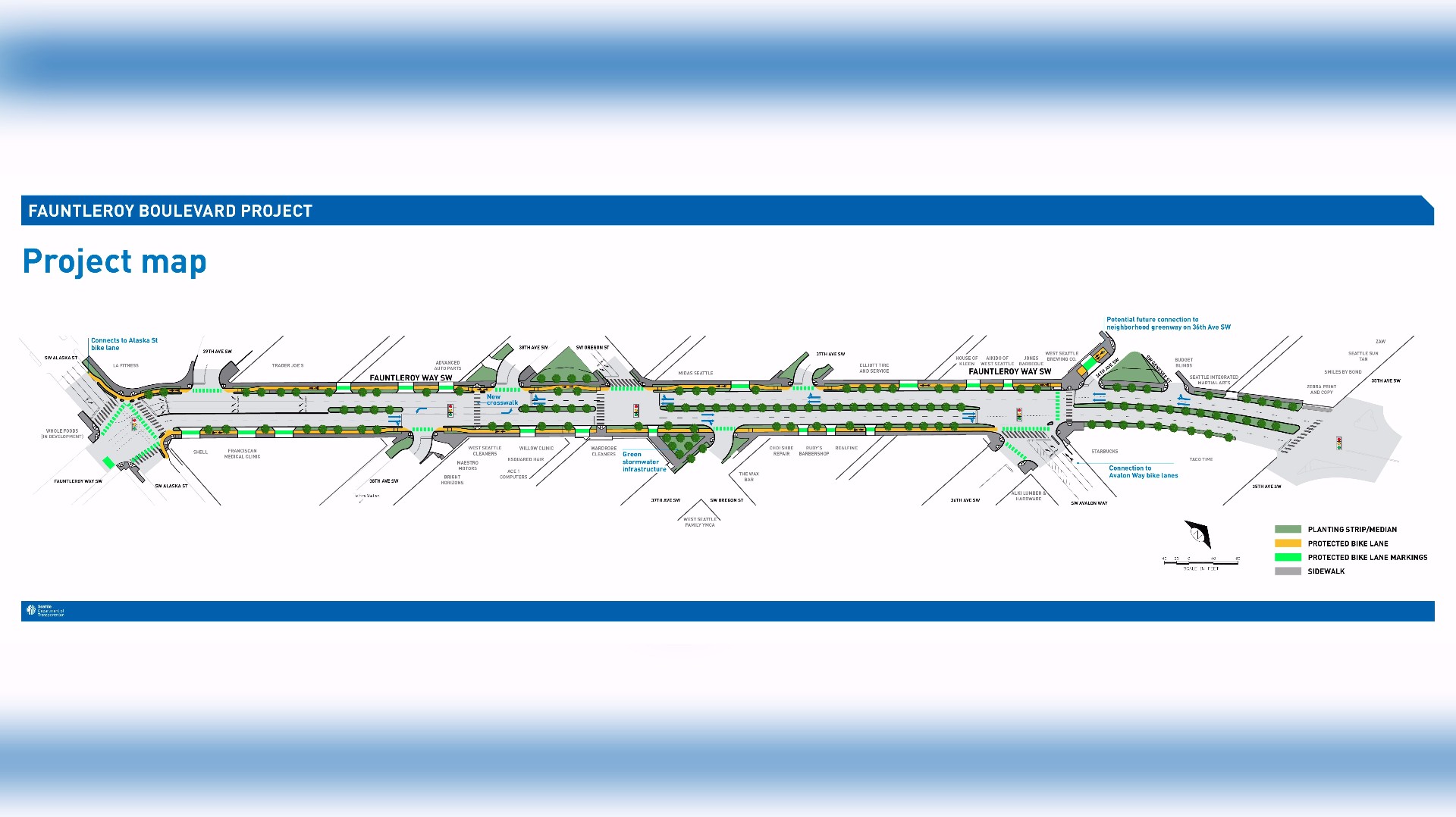 That's about to change.
The project will turn a portion of Fauntleroy Way Southwest into a four-lane, tree-lined street with bike lanes and sidewalks in each direction. A promenade improvement for what has been referred to up until now as "auto row."
But with the visual and safety improvements come some sacrifice, especially for businesses along the half-mile stretch.
"We found out we'll be losing street parking and losing everything up to the awning [of our store]," said Isabel Tirado, manager of Rudy's Barbershop, which sits along Fauntleroy Way Southwest.
"We just want some compromise, and we haven't seen a lot of that," she said.
Stores are concerned about how the construction will impact their livelihoods. Loss of street parking and left-hand turn access into their business could mean that customers will just pass them by.
"For us, in particular, it's access for our customers to be able to get to our shop," said Kandi Jennings-Molloy, owner of Tom's Automotive. "Our business relies on cars, so if they can't get there, we're not going to do very well."
SDOT said it will work with business owners to make the transition smooth.
"We have the office of economic development to help prepare for construction so it doesn't come as a surprise," said McCaffrey said.
As one example of how SDOT is trying to work with businesses, she explained how they moved the load zone for Trader Joe's from Fauntleroy to 39th Avenue Southwest, so it can be easily accessed by delivery trucks.
SDOT is planning several other large scale projects throughout the city including:
- Madison Bus Rapid Transit
- Rainier Avenue South Corridor improvements
- Roosevelt to downtown high capacity transit
- 23rd Avenue corridor