Demand for the nation's more than 1.8 million software engineers has hundreds of companies scrambling for talent in machine learning and data sciences.
The battle is pitched in coastal cities such as San Francisco, Seattle, Los Angeles, Boston and New York, where start-ups and established companies are dangling six-figure salaries, benefits and the chance to do interesting research, according to a study released Friday by LinkedIn. The social network for professionals looked at data for engineering talent on its network in March.
Machine learning and data science skills rank as the most in-demand, though both specialties have the least experienced workforces — less than five years — because they are emerging fields. Consequently, they are fetching the highest compensation, at a median of $129,000 annually.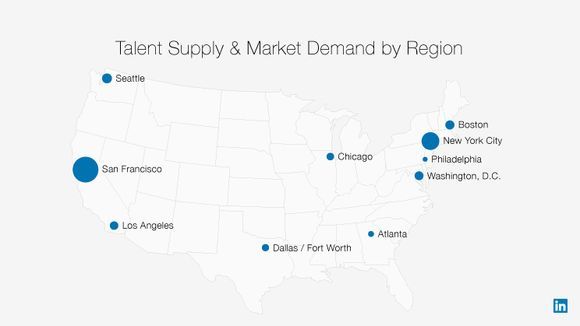 In the competition for engineers, Seattle — home of Amazon and Microsoft — has emerged as an aggressive bidder, offering $132,000 a year.
Software developers are best paid in California, with a median salary of $99,800, though Washington state ranks tops for software talent, according to a separate study by HackerRank, a tech company that focuses on competitive programming challenges for businesses and consumers.
The race for software engineers isn't surprising. The booming tech market expanded twp percent last year to approximately 7.3 million workers as the digital economy continued to flourish in jobs for software, cybersecurity and cloud computing, according to Cyberstates 2017, an annual analysis of the nation's tech industry by technology association CompTIA.
The vast majority — 6.9 million — were employed by tech companies. Yet hundreds of thousands of jobs remain unfilled, and demand is tightening due to the need for highly skilled workers in non-tech industries such as banking and healthcare. (LinkedIn lists more than 300,000 open engineering jobs.)
All told, about four percent of the U.S. workforce is employed in the $1.3 trillion industry, about eight percent of the national economy, says Tim Herbert, senior vice president for research and market intelligence at CompTIA.