Just days before the 4th of July, an Arlington mother and daughter are sharing their scary story after they nearly drowned in the Stillaguamish River.
A group of heroes braved the swift waters and jeopardized their own safety to bring the women to shore.
Now Alychia Humphries and her 16-year-old daughter Fae Eylander say they'll never go river rafting again.
During last Sunday's heat wave, mom and daughter put their raft into the Stillaguamish River at the Jordan Bridge.
"Floating down it was relaxing and the sun it was really nice," Eylander remembers.
Suddenly the waters turned rough, slamming them into a fallen tree, and throwing them into the river. Caught in a strainer, the current kept pulling them under.
"I was hanging on to my daughter's ankle," said Humphries. "I was trying to grab onto branches, but they were all slipping out of my hand."
"At first we were together we were both screaming for help," said Eylander."
"After a few minutes, I couldn't' hear her anymore," said Humphries of her daughter. "I was able to look behind me, and she was gone and the first thing I thought she was dead. It was the most heart-wrenching experience I've ever had to experience."
Little did they know a group of men was nearby. Richard Dougherty saw them tip over and yelled at the others.
"He was like 'Get in there!'" said Zach Goldsmith. "So I threw down my tube and I went over there. I said something to her like 'Can you let go? Can you swim?' And she said, 'Help me!' And she just screamed."
"It was panic mode," said Logan Zobel. "I dropped my tube, ran up river a bit so I could fight the current and swam out there."
Now in the water, the men quickly learned just how swift the river was.
"The current was so strong right there I couldn't pull myself to the next branch," said Bryce Depriest.
"When I got there my left arm was in the water and just the amount of effort to pull my arm up to her, made me realize, ok, this is a little scary," said Goldsmith.
Goldsmith grabbed Humphries after another man grabbed 16-year-old Fae.
Dougherty, Goldsmith, Zobel, and Depriest were joined by Alex Morris, Regor Absher, Zach Kirk, Nicole Griese, Brandon Norman, and Shane Stine. The group of friends worked together in almost a human chain to bring a mother and daughter safely to shore.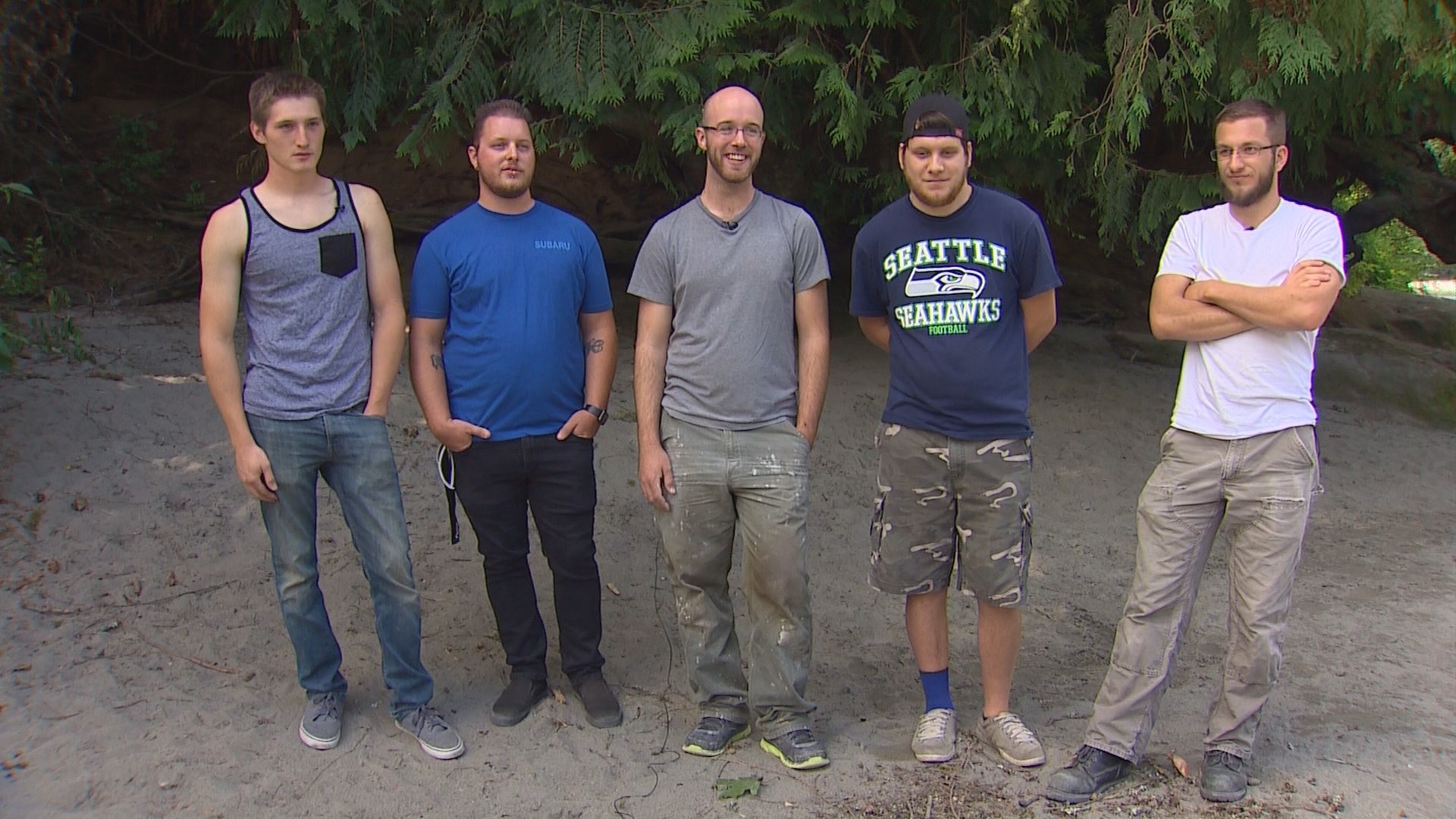 "We always got each other's backs and it really played out there," said Zobel.
Humphries shared her frightening experience on Facebook, and tracked each of the heroes down through social media so she could thank them in person.
"I would like you guys to know you are the reasons why I was able to kiss my daughter and sons at night," said a tearful Humphries to the group. "All of you guys."
They want to pass on the lesson to others.
"I will never float the river. I will never go in a tube in the river," said Eylander.
"Always wear your life jacket. You never know what can happen," said Humphries. The women said they had lifejackets in the raft, but they were not wearing them.
Humphries updated her story of her ill-fated float on Facebook with a photo showing a happy and grateful ending.
"I love them all," she said.