MONTESANO, Wash. - Four members of a Montesano family missing since Tuesday were found safe Thursday walking near a store in Mason County, about 55 miles southwest of Seattle.
The sheriff's office in neighboring Grays Harbor County, where the family lives, said Thursday morning that the family "appears to be OK, considering." Officials say the family was in "good health" after they were evaluated for possible dehydration and mild hypothermia.
According to the sheriff's office, Jason McAlister told deputies he and his wife Melissa had taken their two youngest kids, ages 8 months and 2 years, for a drive into Mason County for some sightseeing. They got stranded on a logging road when they tried driving around a downed tree and the road gave way, causing their car to get stuck.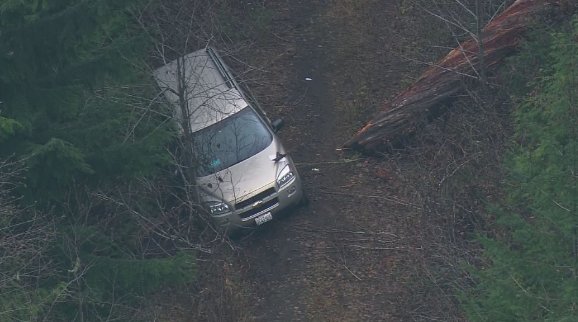 "Everyone is good. God is great. We're happy to be alive," said Jason McAlister, who made sure his family didn't get dehydrated by collecting rainwater in empty water bottles.
McAllister said they also survived on Halloween candy and prayers, and kept their spirits high by listening to the radio and hearing search efforts were going on.
McAlister said they had plenty of gas in the car as well as clothing and water. He said the family tried hiking out Tuesday afternoon, and when it got dark he built a shelter for them on the side of the road.
"I had it against a granite rockface, so that the wind wouldn't blow through it or anything," said McAlister.
But he said everyone still got wet, and early Wednesday morning they hiked back to the van to dry out.
They watched DVDs in the car and heard reports about the search for them on the radio.
At daybreak Thursday, they set out on another hike hoping to get to a main road.
"Today was going to be make and break day," said McAlister.
He was grateful when they met up with hunters about a half-hour into their hike.
The hunters immediately recognized the family and called 911, then drove the family to a general store in Matlock where they were met by aid personnel and sheriff's deputies.
"I was thankful, happy really to end the deal, you know?" said McAlister.
Associated Press contributed to this report.