On Wednesday, Redmond-based Microsoft marked a milestone that nonprofits all over the world are celebrating: $125 million raised by Microsoft employees in 2015, and then donated to charitable organizations.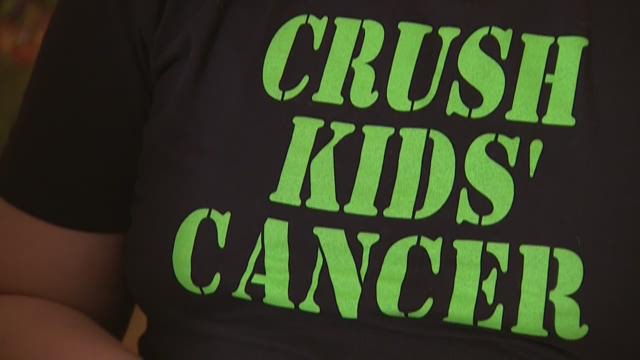 More than $62 million of that went to nonprofits in the state of Washington.
It's a fundraising effort made possible through the company's Employee Giving Program, in which Microsoft matches every dollar raised by its employees, up to $15,000 each year.
For the family of 14-year-old Owain Weinert, that's much more than a statistic.  For them, the fundraising effort is quite personal.
"From the time Owain started chemo to the time he ended, he had 1,180 consecutive days of chemotherapy," said Owain's dad, Alex Weinert. "It's not easy to talk about.  I almost lost my son."
Owain was diagnosed with leukemia when he was just eight years old.  After a brutal three-year fight, he's now cancer free, but his experience inspired the family to try to find a way to help other kids battling cancer.
In 2011, the family created a fundraising guild called Crush Kids' Cancer that benefits Seattle Children's Hospital.  Since they are avid cyclists, the Weinerts began by encouraging other cyclists to ride for a reason -- raising awareness and money for cancer research with each mile and every race.
Since Alex is a Microsoft employee and many of the other cyclists taking part in their fundraiser were his coworkers, the money added up quickly.
"It's north of half a million dollars," Alex said, of the total amount raised from 2011 to today.  "It probably ends up being, by my math, closer to $650,000. Microsoft does very generous matching donations, so a one for one match.  If someone at Microsoft gives to a cause, Microsoft will match that."
It's a program the staff at Seattle Children's Research Institute can't help but be excited about.  
 "The Microsoft Giving Program is amazing," said Aileen Kelly, who is President of Development at Seattle Children's.  "The fact that all the donations from Microsoft employees can be doubled, it's just bonus! It's fantastic!"
Kelly showed KING 5 the Ben Towne Center For Childhood Cancer Research where the work being done to search for a cure benefits in a big way from the money the Weinerts have raised.
She says their donations also help support uncompensated care at Seattle Children's, so that all families can have equal access to care, regardless of a family's ability to pay.
"We are so grateful," said Kelly.  "And we say thank you so much to Microsoft and all employees who give generously."
In 2015, 71 percent of Microsoft's employees took part in the giving program.  The $125 million raised in 2015 was also the most raised in the program's history, with the money going to 18,000 different nonprofits.
"It matters a lot," said Alex Weinert.  "For every kid we can help.  It matters a lot.  It's been pretty cool to be part of it."