A memorial service for fallen Tacoma Police Officer Reginald "Jake" Gutierrez will be held Friday at 1 p.m.
The service will be held at the Tacoma Dome and will be open to the public. Doors will open at 11 a.m.
A procession of Officer Officer Gutierrez's body will begin from Joint Base Lewis-McChord at 10:30 a.m.
A map of the route is below, which includes a stop at South Tacoma Way and Pine Street that will allow Tacoma Police Department to join the procession.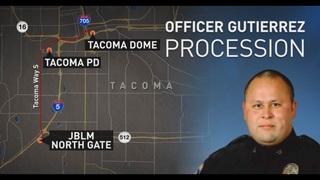 (Click map to enlarge)
The procession is expected to end at the Tacoma Dome at 12 p.m.
For those attending the service, parking at the Tacoma Dome will be reserved for local and visiting first responders. Memorial organizers are asking the public to park at Cheney Stadium, 2502 S. Tyler St., and ride a free Pierce Transit bus to and from the service. Buses will depart Cheney Stadium starting at 10:45 a.m. through 12:30 p.m. Return service from the Tacoma Dome will begin at 3:30 p.m.
The full procession and memorial service will be broadcast on KING 5. It will be streamed on King5.com, the KING 5 App and Facebook.