SEATTLE -- A heart transplant patient has filed a claim against the University of Washington Medical Center after she contracted Legionella, better known as Legionnaires' Disease, while in the hospital's care.
"Of course I'm terrified. Even before that it's terrifying," said Victoria Martin, 32, about the prospects of the disease affecting her recovery.
Martin's attorney says the purpose of the claim is to find out how Martin got infected. Martin is one of five patients diagnosed with Legionella, the most recent of which was announced Monday. That person is in satisfactory condition, according to the hospital.
Two patients have died, but the hospital says it remains unclear if they died due to Legionella or something else. All five were treated in the Cascade Tower, where the cardiac care unit is located.
Martin started noticing problems when she was 14 and was diagnosed with end-stage heart failure when she was 21. She was treated for ten years, including having a Left Ventricular Assist Device (LVAD) implanted in 2014 to help with blood flow.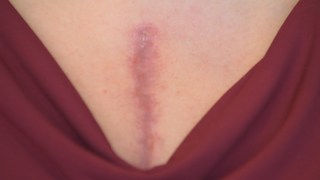 She got the call Aug. 21 that a donor heart for her had been found, three weeks after she was first put on the waiting list.
"It was a perfect match," said Martin.
Recovering in the ICU, she said doctors came in and told her the news that she had contracted Legionella. But Martin said she was sedated and too out of it to understand the seriousness of the problem.
"They knew I had an infection in my lung and they did a bedside lung, swab," said Martin. "Then they came back and said it was Legionella. They didn't elaborate. They just kept saying 'Sorry. You have this terrible pneumonia.'"
VIDEO: Martin recalls when she was first told
Martin said she thought at first it was just a routine issue with the transplant. It was a few days later -- when Martin said she was having a particularly bad day -- that she learned the extent of the problem and that two other patients had died.
"I was like 'Wow. I'm really lucky. My day's not that bad,'" said Martin. "I was blessed that I dodged a bullet."
VIDEO: Martin recounts her reaction to learning about Legionnaires'
The CDC says Legionella is found naturally in freshwater environments, like lakes and streams, but it can grow and spread in man-made water systems including hot water tanks and heaters, large plumbing systems, cooling towers used for air conditioning in large buildings, and decorative fountains.
"Victoria who'd been through ten years tough times, thought she turned the corner with the transplant and then gets hammered with an infection," said Ralph Brindley, Martin's attorney. "To have this infection piled on top of the transplant, I'm sure it did cause problems with the heart transplant."
Because the hospital is a state entity, Brindley says a claim must be filed at least 60 days before a lawsuit. He wants to know exactly what went wrong, but he says a lawsuit has to be filed before they can get access to the necessary records.
VIDEO: Attorney explains what it means to file claim
"There were three of the cooling-heating medical devices that were contaminated with the Legionnaire's bacteria. And we don't know at this point in time whether one of those was the one that was used on her during the transplant. That's one of the reasons we're pursuing this claim to find out what happened, where, and when," said Brindley.
"What's hard to understand here is this is the Cascade Tower which is an older part and the water system there is an older part, yet they have transplant patients there whose immunosuppressant condition makes them extremely susceptible to infection," he added.
Martin and Brindley say they have no intention of suing the doctors.
VIDEO: Attorney says he won't sue doctors
"This looks like it's a systemic problem with the water system or the medical device out there. We're not sure which. But we would not be suing any of her physicians. We don't think they did anything at all wrong," said Brindley.
Martin continues to be treated at UW to make sure there is no rejection to her new heart -- something she'll have to worry about for the rest of her life. She remains thankful for her doctors.
"I would like to credit them for probably saving my life for being on the ball and point with the antibiotics," said Martin.
UW Medical Center says it's taking new precautions including what it calls a hyper-chlorination of the water system in the Cascade Tower. Special water filters have also been installed in the sinks and showers of the inpatient units of the Cascade Tower.
UW said it does not comment on pending litigation.
"We wish Ms. Martin the best in her continued recovery," the hospital said in a statement.
In an unrelated case, Overlake Hospital in Bellevue announced Monday one of its patients contracted Legionella and is recovering. The hospital is investigating where it originated from, including shutting down, testing, and sterilizing ice machines and other water sources.