Whole Paycheck? Not anymore. Based on our research, "3/4 Paycheck" might be a better nickname for Whole Foods Market following Amazon's initial price cuts.
A team of GeekWire reporters surveyed prices on selected items this weekend at three Seattle-area stores, then returned to the same locations when they opened this morning to see exactly how much prices are dropping. Amazon is completed its $13.7 billion acquisition of the Austin, Texas-based grocery chain on Monday, dramatically expanding the Seattle-based tech giant's brick-and-mortar footprint, and is already making changes.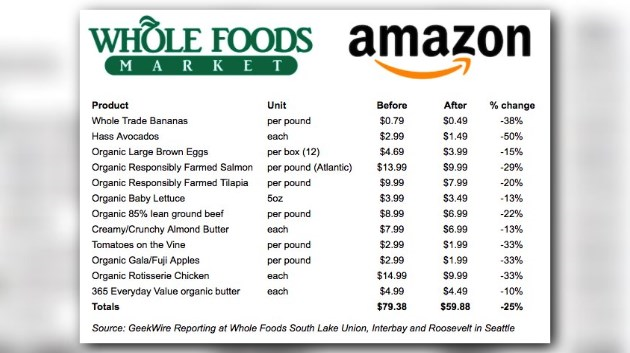 We found an average price reduction of 25 percent on our shopping list of a dozen items. The price cuts ranged from a 50 percent reduction in Hass avocados, from $2.99 to $1.49 each; to a more modest 10 percent drop in 365 Everyday Value organic butter, from $4.99 to $4.49 each.