Whether you're headed to a big game, or grabbing lunch with a friend, Pyramid Alehouse, Brewery & Restaurant in SoDo has you covered with a wide selection of craft brews and pub grub.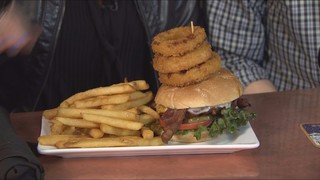 Named as one of the "10 Best Restaurants Near NFL Stadiums" by USA Today, the Seattle Alehouse has a number of beers on draft year-round, as well as rotating seasonal brews like the Snow Cap Ale. Deep in color, the Snow Cap is a full-bodied winter brew with generous notes of chocolate, caramel and hops.
On Saturday, November 12, Pyramid is celebrating the 30th anniversary of this signature seasonal brew with the annual Snow Cap Party. The event takes place at the Seattle Alehouse in SoDo, and will feature entertainment by Robert Delong and The Colourist. You can buy tickets online, and proceeds benefit the Northwest Avalanche Center.
Pyramid is also one of the many great vendors that will be featured at King 5''s Best Fest on Wednesday, October 19. It's a celebration of Evening's 24th Annual Best of Western Washington viewers poll. Don't forget to get your tickets in advance!
The Seattle Alehouse is open from Sunday through Thursday from 11:00 a.m. to 9:00 p.m., and on Friday and Saturday from 11:00 a.m. to 11:00 p.m. Before every Mariners and Seahawks home game, the Alehouse opens a beer garden in the front lot. It's located across the street from Safeco Field at 1201 First Ave. South. Reservations can be made by calling (206) 682-3377. Please note that reservations cannot be accepted on game days.