EVERETT, Wash. -- It was, in the truest meaning of the term, a "community coffee house" -- a place for people to meet, talk, and exchange ideas.
But it was also much more than that, and now it has been shut down forever.
"It's just unbelievable to me that such a thing could happen," said Mike LaPointe.
LaPointe was greeted by sheriff's deputies and an eviction notice when he came to open up his Firewheel Community Coffee House Wednesday.
"It's shameful," said LaPointe. "This is a place that's needed for people. It has literally saved lives, and not one or two, but dozens."
LaPointe operated the coffeehouse for five years, giving meaningful work to recovering addicts and those trying to work their way out of homelessness.
"I truly believe this place saved my life," said Melissa Langlamb during an interview with KING 5 in October.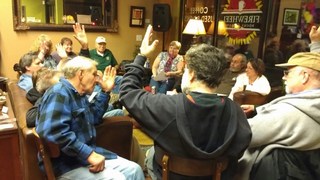 LaPointe also provided free meeting spaces, music, and a place for the homeless to get out of the rain without hassle or judgment.
People helping people was the spark that ignited Firewheel. LaPoint liked to refer to the place as a "town square."
But about a year ago, LaPointe started falling behind in his rent. At one point he owed more than $20,000. Community donations recently helped him pay a large chunk of that back, about $12,000, but the landlord's patience had run out.
LaPointe is heartbroken that his work won't continue.
"We have to act as a community to make it a better place to live," he said, wiping away tears. "That's what we were doing."
Prior to taking over Firewheel, LaPointe worked at Cocoon House, a shelter and support center for homeless youth in Everett.
"Mike would come in and work a 20 hour day during a storm to make sure the kids were taken care of," said Cocoon House CEO Cassie Franklin.
Franklin is also a member of Everett's City Council and said extinguishing the Firewheel will burn.
"We're going to have more people on our streets or more people without a purpose."
One of those people could be Mike LaPointe. Firewheel wasn't just his passion. It was his home.
As he struggled to pay off his debt, money got so tight he ended up moving into the coffee shop.
"So, now I'm homeless," he said with a tinge of anger in his voice. "That's not supposed to be what community is about."
LaPointe slept in the doorway of the Firewheel Wednesday night. Part of it was a personal protest. Part of it was to help himself process the gravity of the situation.
LaPointe said he does have friends to stay with until he finds his own home, and he vows to one day make Firewheel burn brightly again.
"I'm just another homeless guy now, but that doesn't mean I'm worth nothing. The Firewheel is not going to end."