SEATTLE – Seattle city leaders say there is room to grow KeyArena.
That's the biggest takeaway from a small, intimate meeting Thursday night of city leaders with members of the Uptown Alliance community group.
They also learned there might be stiff community opposition to a major remodel of the arena, which has occupied the spot in Seattle Center since it was known as the Seattle Center Coliseum.
Over the course of an hour, Seattle Center Director Robert Nellams, City Budget Director Ben Noble, Seattle Councilmember Sally Bagshaw, and Economic Development Director Brian Surratt laid out their vision for an upcoming Request for Proposal (RFP) on KeyArena.
Nellams told the gathering that two groups, who have now expressed public interest in renovating KeyArena, AEG and Oak View Group, have focused on renovating the south side of the building. That's the area where there is a small parking lot and loading docks. Nellams told the group "that's where the acreage is," and a parking garage as well.
The announcement came as Seattle Mayor Ed Murray formally launched a process to study the KeyArena renovation. Documents obtained by KING 5 show that the mayor has ordered Surratt to lead a team to study the "planning and ultimate construction of a new world-class venue to attract the NBA, NHL, and other events" to the region.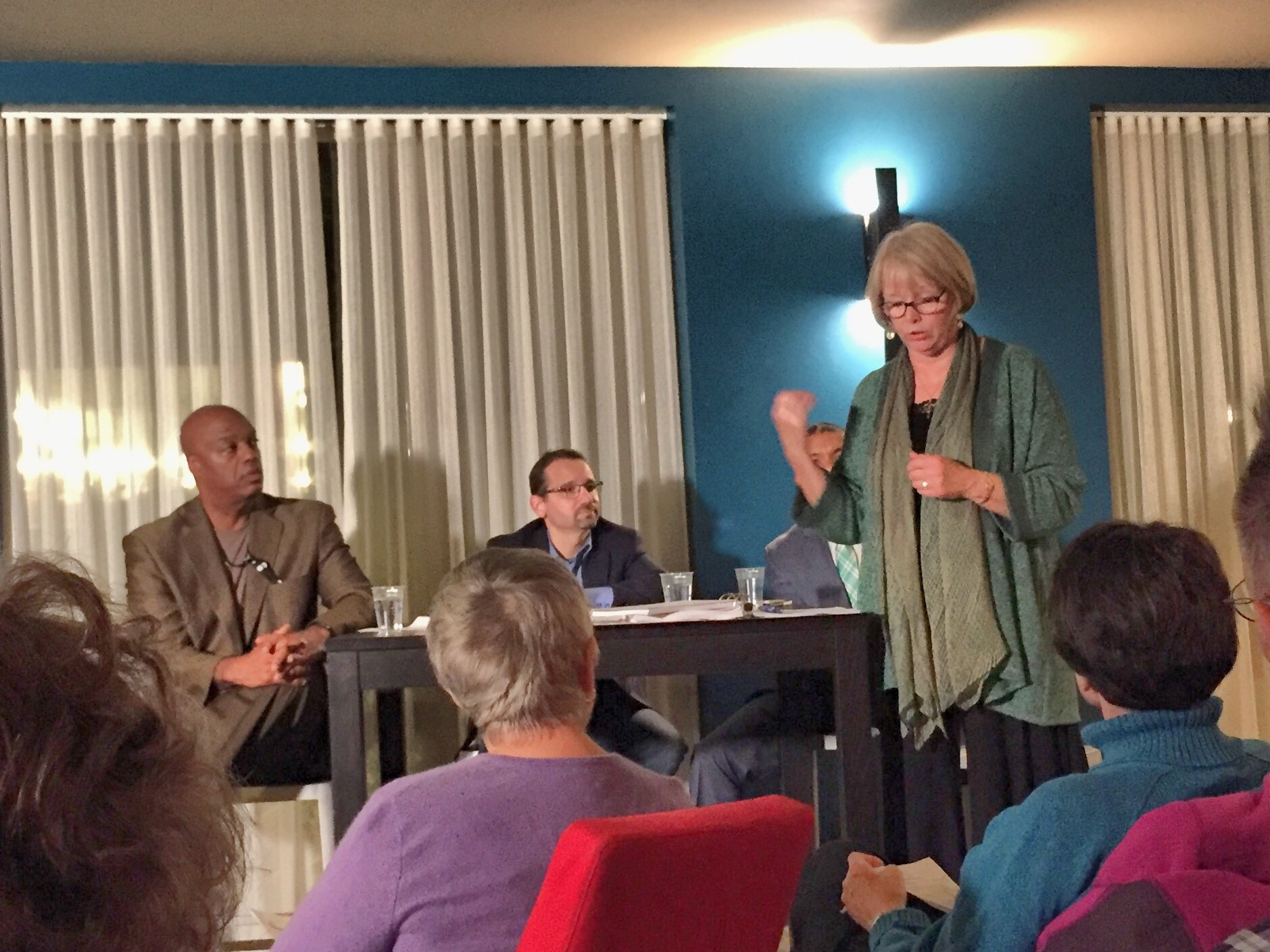 Murray has ordered departments, in an internal memo, to coordinate a project team "no later than November 15, 2016" and to "deliver a work plan with project deliverables and deadlines no later than December 15, 2016." Murray's note to several department heads also asks them to present options and recommendations for advancing an arena proposal to the mayor "no later than June 30, 2017."
This follows a particularly busy few weeks in the arena-related news. Chris Hansen's investment group, in a letter, has offered to privately finance an arena in SoDo. It pre-empted an announcement from Murray that his office would issue the RFP on KeyArena. Murray sent a letter to Hansen's group, dated Tuesday, thanking them for the recent offer on the SoDo plan, adding "I appreciate your enthusiasm and eagerness to re-evaluate your approach," and that his staff "are prepared to sit down with your representatives at your earliest convenience. Murray signed the letter,"Again, thank you for your continuing efforts on behalf of our community."
Bagshaw was optimistic Thursday, about the possibilities at Seattle Center, especially with the passage of Sound Transit 3, but also struck a cautious tone at the meeting with Lower Queen Anne neighborhood stakeholders.
"Making sure we're able to get people in and out is going to be key," said Bagshaw, adding there are transportation connections to Seattle Center.
"One monorail ride away from downtown," she said, "Tunnel is going to be open in 2019."
However, she also noted light rail is 15-18 years away. Bagshaw also said "transportation is a major focus" and that having a vital, healthy neighborhood to work, and move around, is "critical."
"Flat out – transportation and parking is a key challenge with this location," said Noble.
Noble seemed to indicate the city still had multiple questions about the RFP and whether private developers could do much about the transportation challenges in Lower Queen Anne.
Nellams said a parking study of Seattle Center was underway already. However, he also acknowledged it was unlikely a traffic and transportation analysis would be done in conjunction with the RFP. Noble said a full analysis "was unlikely." Murray had previously indicated the RFP would go out in January.
However, multiple residents at the meetings expressed serious reservations about a company coming in and building a massive complex in the neighborhood.
Matt Roewe, who said he lived in the neighborhood, argued that there had been "50 new development projects in Uptown, on parking lots."
Roewe said he was concerned, because the parking resource was rapidly diminishing, and that ST3 would do little to help a new complex.
"300 people per train, every five, six minutes. It would take seven hours to get 20,000 people (in and out)," he said, adding, "It's a pretty major thing."
Roewe said the neighborhood has learned to "stand on its own" since the Sonics left.
He asked the group of leaders point blank, "Are we wasting our time?"
Nellams countered that there is a "need for a first-class arena" in Seattle. Noble said the city is doing its due diligence, and that Seattle needs to do ask, with a civic asset, 'Can this work?'"
There was a disconnect between Nellams and Noble, about whether any potential proposal would have to keep the roof of KeyArena. Noble said it was not a historic roof, but Nellams said the building -- because it is over 50 years old -- "would have to go through" a historic landmark preservation process. Nellams also suggested that, based on conversations with AEG and Oak View, that a smaller configuration could be possible. He pointed to Sacramento's new arena as a potential model.
However, Ethan Raup, the General Manager of KEXP, which just recently opened up a brand new facility near KeyArena, also expressed reservations. Raup told the group he was concerned about the big courtyard space and that the Sacramento model is great, but there were "political pressures to put that deal together," and he was concerned about how square footage of any building would impact KEXP.
Another woman named Carolyn, who said she lives in Uptown, added she's "very very concerned about the traffic," and feels "trapped in my condominium" when there is an event at KeyArena right now. Another woman named Phoebe, who said she just moved into the neighborhood, said the RFP process was "upsetting."
However, Bagshaw and Nellams both reiterated they want to make a decision that is best for Seattle. The councilmember told the group the city is actively talking with the Seattle School District about a new high school at Seattle Center.
"I want it to be the center of Seattle again," she told the group. "(I) would love to see a full-on high school. They're talking with us."
"I'm sorry I'm a little Pollyanna," Nellams added about the entire conversation, "But after this week, somebody has to be."