Tacoma Motorsports was selected BEST Motorcycle Shop by the voters of Western Washington in 2016's Best of Western Washington contest.
Over the course of almost 40 years, this family business has made a strong impression across the Western Washington region, gaining acclaim and attention for its friendly and knowledgeable staff.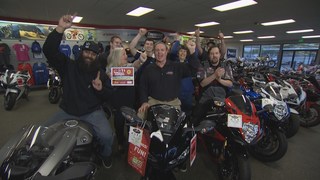 Tacoma Motorsports first opened in 1977, rising from the rubble of a bankrupt former dealership in Tacoma's South End.
Whether you're looking for a cool way to get through that horrible I-5 traffic, or planning an adventurous outdoor weekend, Tacoma Motorsports has you covered. T
his motorcycle dealer offers a wide variety of Honda, Suzuki, and Yamaha street, dual-sport, and dirt bikes. They also offer off-road Side by Sides, ATVs, and utility vehicles for those seeking a little weekend four-wheeled fun!
Tacoma Motorsports
4701 Center St
Tacoma, WA 98409
(253) 564-8678
Hours
Tuesday-Friday: 10 a.m. - 6 p.m.
Saturday: 9 a.m. - 5 p.m.
Closed Sunday and Monday