It's inevitable— nowadays you're bound to invite someone over for dinner that has dietary restrictions. Vegetarian, vegan, lactose intolerant, gluten-free, paleo.
Most of the time these restrictions are easily fixed by whipping up something quick, but when it comes to Thanksgiving it becomes slightly more difficult when you're balancing a turkey, entertaining and dealing with those family members that have had one too many drinks watching the game before dinner. So we did the hard stuff for you—we found five vegetarian recipes everyone will like.
Cauliflower Casserole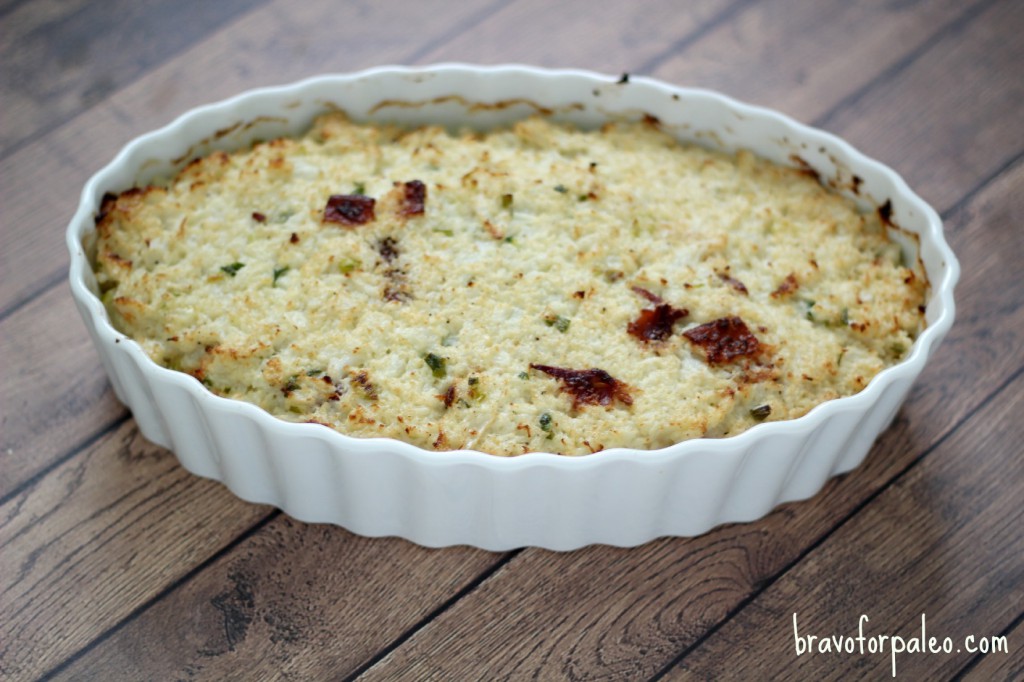 Because cauliflower is all the rage right now. Serves 8-10
Prep time 25 mins + Cook time 30 mins + Total time= 55 mins
Ingredients
2 heads of cauliflower
6 green onions
1- 1½ sticks of pastured butter
¼ cup heavy cream
6 oz of chèvre (goat cheese)
Salt and pepper, to taste
Instructions
Cut up cauliflower. Put in large stock pot and cover with water.
Bring to a boil on high heat. Continue boiling until cauliflower is very soft when stuck with a fork. Drain in colander.
Chop up green onions. Melt butter in stock pot on low heat. Add green onions and sauté until soft. Turn off heat.
Return cauliflower to the pot and add heavy cream. Mash with a potato masher.
Add chèvre, sea salt and pepper to taste. Blend well.
Put in baking dish prepared with coconut oil and bake at 350 for 30 minutes.
Serve hot.
Recipe/photo from bravoforpaleo.com
Thanksgiving Brussels Sprouts and Mushroom Gratin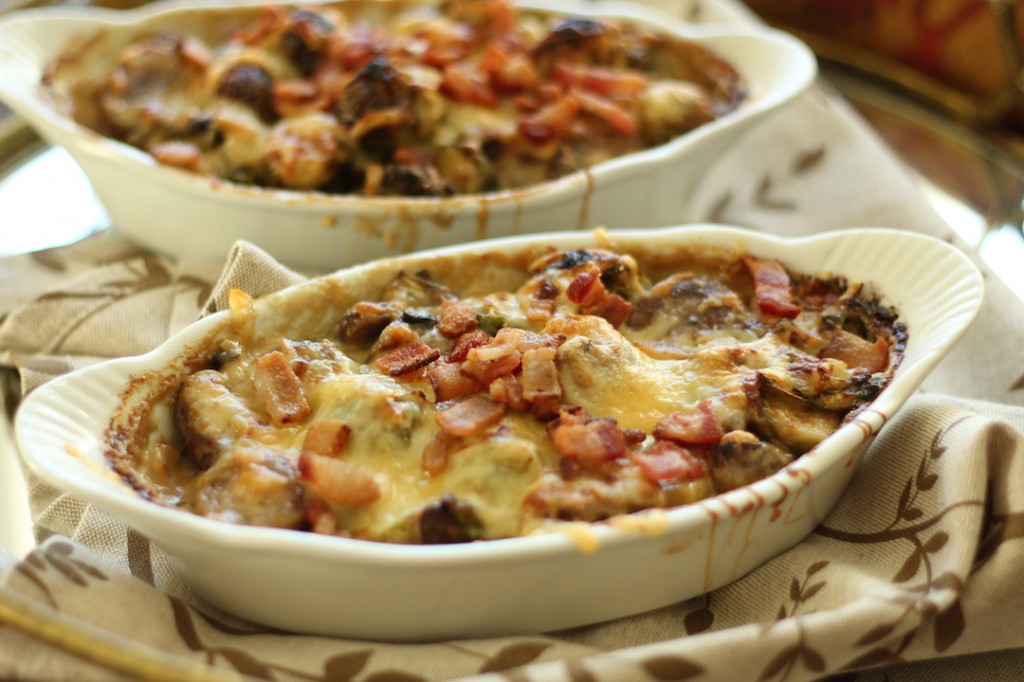 Now everyone will eat brussels sprouts. Serves 3-4
Prep time 30 mins + Cook time 20 mins = Total time 50 mins
(Bacon has been removed from recipe)
Ingredients
3 cups brussels sprouts, ends removed and halved
3 tablespoons grass-fed butter, ghee or coconut oil, melted
pinch of salt
2 garlic cloves, minced
1 yellow onion, minced
2 cups sliced button mushrooms
1 teaspoon minced fresh rosemary
½ teaspoon salt
pinch of black pepper
½ cup heavy cream
½ cup shredded parmesan cheese
4 ounces shredded gruyere cheese
Instructions
Preheat oven to 400 degrees.
Toss halved brussels sprouts in fat and sprinkle with salt. Lay out on a parchment paper lined baking sheet and place in oven. Bake for 30-35 minutes or until crispy.
Heat up one teaspoon of olive oil. Add garlic and onion. Once onion has become translucent, add mushrooms and rosemary. Cook until mushrooms become soft, then add salt, pepper, heavy cream and parmesan cheese. Mix well to combine.
Remove from heat, add brussels sprouts to mushroom sauce pan and mix well.
Grease an 8x8 baking dish (or whatever dish you would like to serve it in. I did mine in smaller, individual dishes) add brussels sprouts mixture to dish, top with shredded gruyere cheese and place in oven to bake for 15 minutes.
Let rest for 10 minutes before serving.
Recipe/photo from paleomg.com
Thanksgiving Maple Rosemary Whipped Yams Topped with Cinnamon Candied Pecans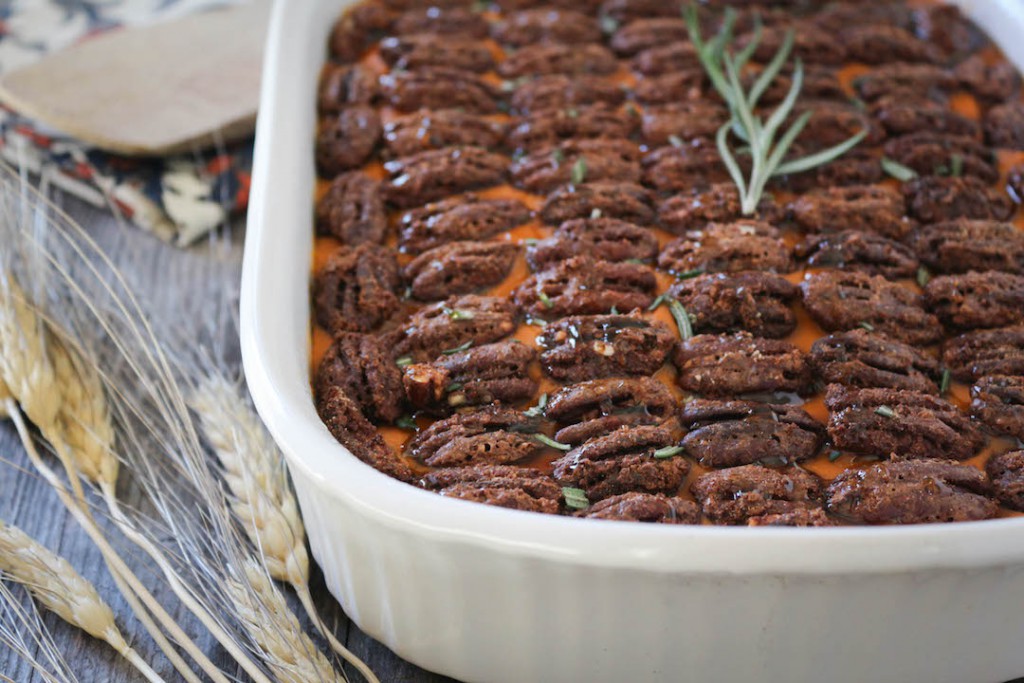 If you don't want to eat this, there's something wrong with you. Serves 6-8.
Prep time 45 mins + Cook time 50 mins = Total time 1 hour 35 mins
Ingredients
1 batch of Cinnamon Candied Pecans
4 large yams, peeled and cubed
¼ cup heavy cream or coconut milk
3 tablespoons maple syrup + more for garnishing
2 tablespoons minced fresh rosemary + extra for garnishing
½-1 teaspoon fine sea salt (depending how salty you prefer)
Instructions
Make candied pecans.
Preheat oven to 350 degrees F.
Place peeled and cubed yams in a large pot, fill with water, then place over medium heat. Bring to boil and let boil for about 20-25 minutes, until yams are fork tender. Drain.
Place yams in blender (I used a blendtec) and blend until smooth, using a spatula to mix yams and scrape down sides of blender as needed to help them puree into a smooth mixture.
Then add heavy cream, maple syrup, rosemary and salt. Blend again until combine. Taste to see if you would like to add any more salt
Grease a 2 quart baking dish then pour pureed yams into baking dish and smooth out with spatula.
On top of the casserole, place candied yams in whatever shape or formation you prefer.
Place dish into oven and bake for 20-25 minutes, until pecans become fragrant but no do not burn.
Garnish with extra maple syrup and fresh rosemary.
Recipe/photo from: paleomg.com
Roasted Butternut Squash Risotto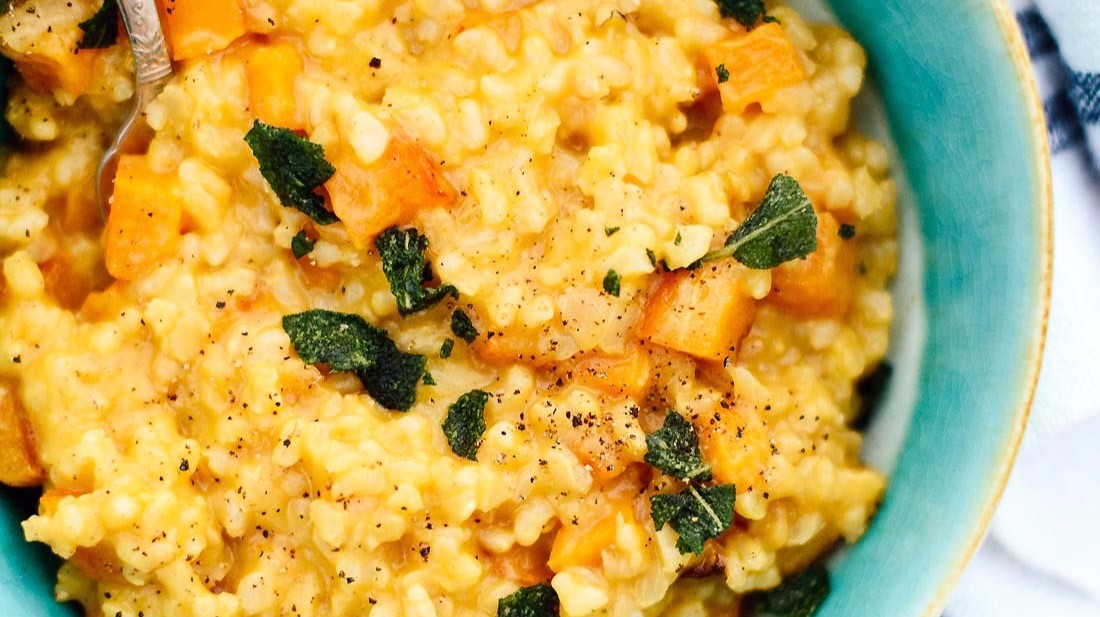 Who said a main dish can't be vegetarian? Serves 4
Prep Time 15 mins + Cook time 65 mins = Total time 1 hour 20 mins
Ingredients
Butternut squash risotto
3 tablespoons olive oil, divided
1 small yellow onion, chopped
2 cloves garlic, pressed or minced
4 cups (32 ounces) vegetable broth, divided
1½ cups brown arborio/short-grain brown rice
1 small butternut squash (about 2 pounds), peeled and sliced into ½" cubes
1 cup freshly grated Parmesan cheese* (about 2½ ounces)
½ cup dry white wine, optional
3 tablespoons unsalted butter, diced
1 teaspoon salt, more to taste
Freshly ground black pepper, to taste
Pinch red pepper flakes, to taste
Fried sage
1 tablespoon extra-virgin olive oil
16 to 20 fresh sage leaves, chopped (to yield about ¼ cup chopped fresh sage)
Instructions
To prepare: Place your oven racks in the lower third and upper third positions (we're going to bake the risotto on the middle rack and roast the squash on the upper rack at the same time), then preheat oven to 375 degrees Fahrenheit. Line a large, rimmed baking sheet with parchment paper for the butternut squash. Reserve 1 cup broth from your container and set it aside for when the risotto is out of the oven.
Heat 1 tablespoon olive oil in a medium-to-large Dutch oven (or saucepan) over medium heat until shimmering. Add onion and a pinch of salt. Cook, stirring occasionally, until softened and turning translucent, about 5 minutes. Add the minced garlic and cook until the garlic is fragrant, 1 to 2 minutes.
Add 3 cups broth and 1 cup water, cover, and bring to a boil over medium-high heat. Remove from heat and stir in the rice. Cover the pot and bake on the lower rack until rice is tender and cooked through, about 65 to 70 minutes. It will seem pretty dry when you take off the lid, but don't worry!
Immediately after placing the pot of risotto in the oven, toss the cubed butternut with 2 tablespoons olive oil on your lined baking sheet. Sprinkle with salt and some freshly ground black pepper and arrange the butternut in a single layer on the pan. Roast on the upper rack until the butternut is fork tender and the edges are deeply caramelized, tossing halfway. This took 55 to 60 minutes for me, but start checking for doneness around 40 minutes.
While the risotto and butternut are in the oven, fry the sage: Heat 1 tablespoon olive oil in a medium skillet over medium heat. Once the oil is shimmering, add the sage and toss to coat. Let the sage get darker green and crispy (but not brown) before transferring it to a plate covered with a paper towel. Sprinkle the fried sage lightly with salt and set it aside.
Carefully remove the Dutch oven from the oven. Remove the lid and pour in the remaining cup of broth, the Parmesan, wine and butter. Stir vigorously for 2 to 3 minutes, until the rice is thick and creamy. Stir in the salt, a generous amount of pepper and a pinch of red pepper flakes.
Stir in the roasted butternut. Taste and add more salt and/or pepper, as needed. Divide the risotto into bowls and top each with a sprinkle of fried sage.
Recipe/photo from cookieandkate.com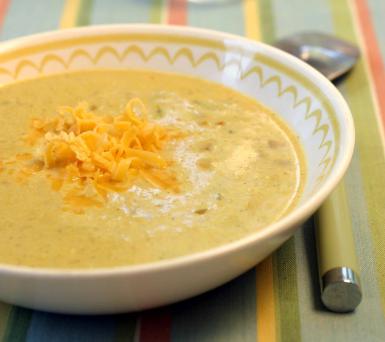 How good will this be for leftovers? Serves 3-4
Prep time 10 mins + Cook time 15 mins = Total time 25 mins
Ingredients
2 tablespoons vegetable oil
1/2 cup finely chopped green bell pepper
1/2 cup finely chopped red bell pepper
1/4 cup minced shallots
2 tsp curry powder, or to taste
1/2 tsp salt
3 cups fresh corn or one 16-ounce bag frozen corn, thawed (about 3 cups)
1 cup vegetable stock
1/2 tsp freshly ground pepper, or to taste
3 cups plain soy milk (or another non-dairy milk substitute), divided
1/2 cup shredded cheddar cheese, divided
Instructions:
Heat the oil in a large saucepan or Dutch oven over medium-high heat. Add the bell peppers; cook, stirring occasionally, until tender, about 4 minutes.
Add the shallots during the last minute; stir until tender but not browned. Add the curry powder and salt; stir for 1 minute.
Stir in the corn, vegetable stock, and pepper. Bring to a boil, reduce the heat to medium; cover and cook until the vegetables are tender, about 5 minutes.
Transfer 2 cups of the corn mixture to a blender or food processor. Add 1 cup of the soy milk. Process until the mixture is nearly smooth.
Pour the puréed mixture into the saucepan; stir in the remaining soy milk. Stir gently over medium heat until the mixture is heated through, about 5 minutes.
Sprinkle each serving with 2 tablespoons cheese.
Recipe/photo from: vegetarian.about.com