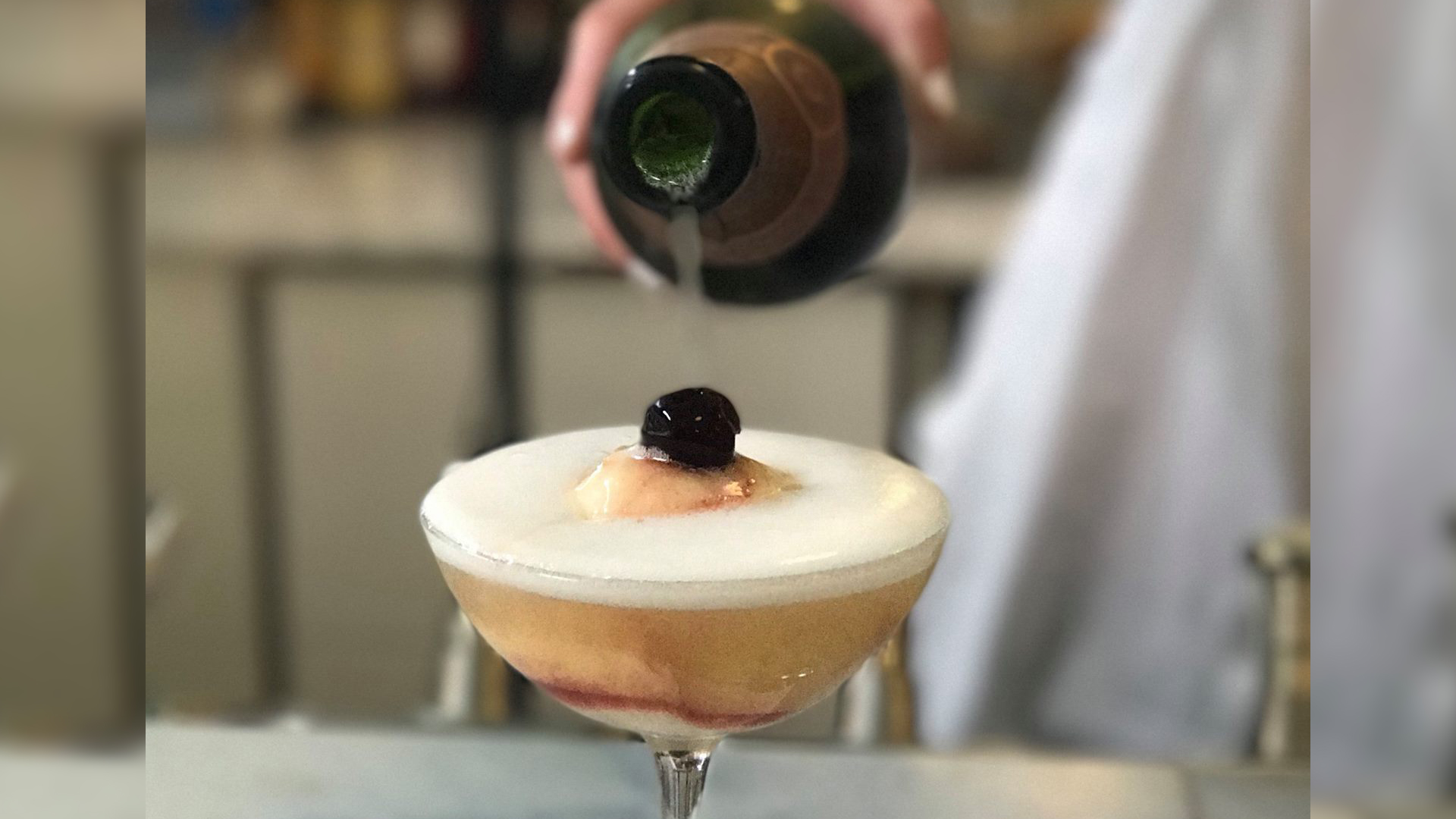 We're not drooling, you are! (Okay, we're drooling, too...) Shug's Soda Fountain & Ice Cream in Pike Place Market is going to be the place to be all summer long for ice cream cocktails. We know you're just as excited about this as we are.
The retro-style soda shop is best known for their soda made with homemade syrups, but we came for the 21+ fun. We tried the Champagne Float (which we know you all want to Instagram) with peach sorbet and the Invierno Shake with Kahlua, organic cold brew, and coconut & vanilla ice cream. YUM.
And don't worry, if you want to keep it kid-friendly, they have floats and treats that are equally heavenly.
PS: We didn't try the Beer Float, but we plan on going back to test it out! Let us know what you think if you get to it first.
{"version":"1.0","title":"Now seems like the perfect time to have an IPA, Blueberry Ice Cream Float on our Patio! #shugssodafountain #beerfloat #ipa #terminalgravitybrewing #lopezislandcreamery #blueberryicecream #seattlepatio #patio #seattle #pikeplacepublicmarket #yummy #🍨","author_name":"shugssodafountain","author_url":"https://www.instagram.com/shugssodafountain","author_id":1956710144,"media_id":"1509696623898760628_1956710144","provider_name":"Instagram","provider_url":"https://www.instagram.com","type":"rich","width":658,"height":null,"html":"&#lt;blockquote class=\"instagram-media\" data-instgrm-captioned data-instgrm-version=\"7\" style=\" background:#FFF; border:0; border-radius:3px; box-shadow:0 0 1px 0 rgba(0,0,0,0.5),0 1px 10px 0 rgba(0,0,0,0.15); margin: 1px; max-width:658px; padding:0; width:99.375%; width:-webkit-calc(100% - 2px); width:calc(100% - 2px);\"&#gt;&#lt;div style=\"padding:8px;\"&#gt; &#lt;div style=\" background:#F8F8F8; line-height:0; margin-top:40px; padding:62.5% 0; text-align:center; width:100%;\"&#gt; &#lt;div style=\" background:url(data:image/png;base64,iVBORw0KGgoAAAANSUhEUgAAACwAAAAsCAMAAAApWqozAAAABGdBTUEAALGPC/xhBQAAAAFzUkdCAK7OHOkAAAAMUExURczMzPf399fX1+bm5mzY9AMAAADiSURBVDjLvZXbEsMgCES5/P8/t9FuRVCRmU73JWlzosgSIIZURCjo/ad+EQJJB4Hv8BFt+IDpQoCx1wjOSBFhh2XssxEIYn3ulI/6MNReE07UIWJEv8UEOWDS88LY97kqyTliJKKtuYBbruAyVh5wOHiXmpi5we58Ek028czwyuQdLKPG1Bkb4NnM+VeAnfHqn1k4+GPT6uGQcvu2h2OVuIf/gWUFyy8OWEpdyZSa3aVCqpVoVvzZZ2VTnn2wU8qzVjDDetO90GSy9mVLqtgYSy231MxrY6I2gGqjrTY0L8fxCxfCBbhWrsYYAAAAAElFTkSuQmCC); display:block; height:44px; margin:0 auto -44px; position:relative; top:-22px; width:44px;\"&#gt;&#lt;/div&#gt;&#lt;/div&#gt; &#lt;p style=\" margin:8px 0 0 0; padding:0 4px;\"&#gt; &#lt;a href=\"https://www.instagram.com/p/BTzhRSqF5W0/\" style=\" color:#000; font-family:Arial,sans-serif; font-size:14px; font-style:normal; font-weight:normal; line-height:17px; text-decoration:none; word-wrap:break-word;\" target=\"_blank\"&#gt;Now seems like the perfect time to have an IPA, Blueberry Ice Cream Float on our Patio! #shugssodafountain #beerfloat #ipa #terminalgravitybrewing #lopezislandcreamery #blueberryicecream #seattlepatio #patio #seattle #pikeplacepublicmarket #yummy #🍨&#lt;/a&#gt;&#lt;/p&#gt; &#lt;p style=\" color:#c9c8cd; font-family:Arial,sans-serif; font-size:14px; line-height:17px; margin-bottom:0; margin-top:8px; overflow:hidden; padding:8px 0 7px; text-align:center; text-overflow:ellipsis; white-space:nowrap;\"&#gt;A post shared by Shug's Soda Fountain (@shugssodafountain) on &#lt;time style=\" font-family:Arial,sans-serif; font-size:14px; line-height:17px;\" datetime=\"2017-05-07T20:44:43+00:00\"&#gt;May 7, 2017 at 1:44pm PDT&#lt;/time&#gt;&#lt;/p&#gt;&#lt;/div&#gt;&#lt;/blockquote&#gt;\n&#lt;script async defer src=\"//platform.instagram.com/en_US/embeds.js\"&#gt;&#lt;/script&#gt;","thumbnail_url":"https://scontent.cdninstagram.com/t51.2885-15/sh0.08/e35/p640x640/18298949_397116354015378_1780263403026120704_n.jpg","thumbnail_width":640,"thumbnail_height":800}