While watching Nicole Pepper work on pieces for her shop, MODHomeceramics, you can easily see how passionate she is about pottery. Whether she's carving sgraffito designs on a plate, throwing a pot on the wheel, or unloading a fresh batch of pieces from her kiln, she does it all with a smile.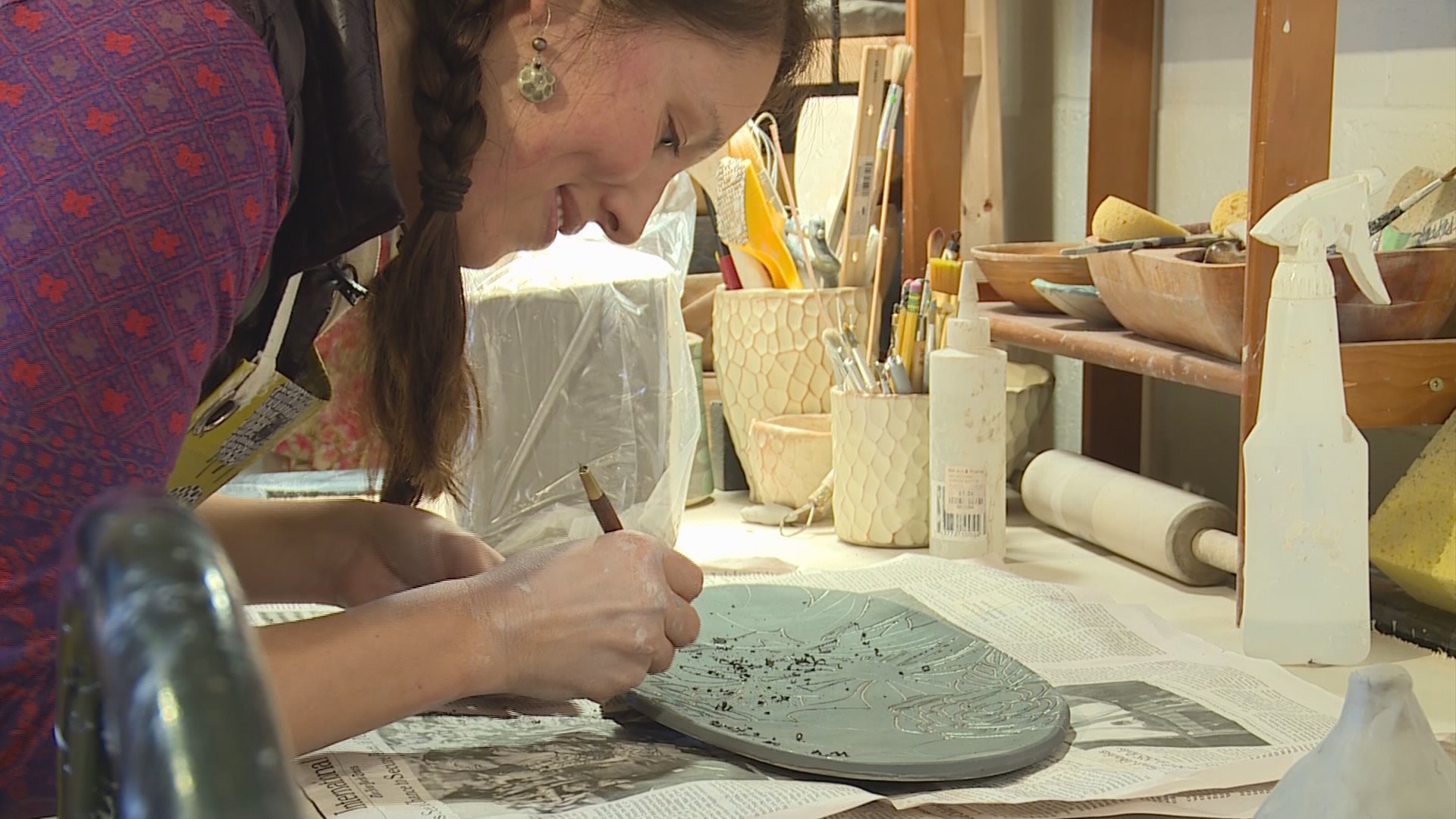 "I love making these," said Pepper with a smile. "I really do."
Pepper's intricate designs are inspired by her home, and nature. She loves to carve waves, flowers and feathers into various ceramic pieces. Since Pepper loves the feel of rocks, she intentionally doesn't glaze the bottom of her pieces so it still feels like stone. She tends to prefer making hand thrown pieces, but also utilizes a pottery wheel. Pepper also keeps the piece's function in mind when designing the shape.
"On a counter, I like to have longer than a round, because it takes up less counter space," said Pepper in reference to her Feather Trays, which are one of her best sellers.
Nicole's journey to running MODHomeceramics out of her West Seattle home started more than 20 years ago after graduating from Western Washington University with a Bachelor of Fine Arts degree.
"I thought 'Okay, I'm going to build a studio.' But then I was like, ''Oh, I have to get a job to pay for my supplies and tools!'"
Pepper worked in several galleries, restaurants, and started a family before everything finally fell into place.
"You're never too late. You can keep pushing forward in some small way and it will all come together in the end."
Her hard work and determination, along with the support of her family helped her get where she is today. And she says she's learned that while every day may not go as perfectly planned, she continues to push through.
"I intend to live in the moment and I'm learning to accept what comes and being open to it. And I think that's definitely how it's been able to work."
Nicole plans to keep creating more pieces, and hopes to expand into more retail spaces so she can continue pursuing her dream of changing the world one pot at a time.
"You just hope to bring peace and joy into someone's life through what you do," said Pepper. "If you can do that, that's the greatest gift. And I hope I can do that and live up to that."
You can find MODHomeceramics at KOBO in the International District and Capitol Hill, as well as Fioravanti on Beacon Hill. You can also place orders through the MODHomeceramics website and Etsy shop. Nicole does take custom orders.
Evening is your guide to Seattle and the Pacific Northwest. Watch it weeknights at 7:30 on KING 5 TV or streaming live on KING5.com. Connect with Evening via Facebook, Twitter, Instagram or email: eveningtips@king5.com.