This salon in Seattle's Greenwood neighborhood makes custom corsets: Both silhouettes from the past...and shapes that are pop-culture present:
"So this one was actually worn by Fergie," explains Period Corsets' owner Hilary Specht Coffey. Madonna and the Victoria's Secret Fashion Show models have also worn their work.
"It's pretty fun to see the things coming down the aisle that we made," says Specht Coffey.
But she notes that bespoke corset construction has its challenges.
"A designer said 'I wanna make a corset out of straw, and maybe another corset out of barbed wire,'" she says, showing the mockup of the straw corset. The barbed wire corset didn't make it beyond idea stage.
Deadlines are tight in the custom corset world.
"People call up from all manner of backgrounds, either it's an individual that has a wedding coming up, or a designer working on a Broadway show, or a film company, they usually need it last week. And so, we do it," explains office manager Sara Lanzillotta.
These pieces aren't just for costumes and models -- anyone can order. Each garment is handmade, right here in Seattle.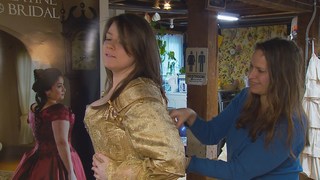 Model Deanna volunteered to undergo a transformation to a corseted wedding gown from their plus-size bridal line, called Palatine:
"I just feel kind of like a goddess or a queen," she says after Specht Coffey helps her into the gown.
Everyone here believes that feeling is what the corset has always been about.
"We got into this business because we like to create beautiful things," says Specht Coffey.
"Some people, when they think of corsets think 'Oh that's oppressive, it's keeping the woman down," says Lanzilotta. "But it's not. It's about the completely opposite thing. You feel powerful when you have that corset on. You feel strong."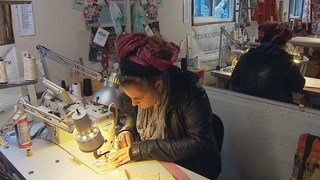 Period Corsets' garments are available by custom order.
Period Corsets
sales@periodcorsets.com
(206) 264-0997 or
(877) 226-7738