As trumpet player who has performed with Macklemore, Owuor Arunga played all over the world. But no performance is more important than tomorrow night's Madaraka Festival in Seattle.
He says it's more than just what we'll see and hear.
"The idea of imagination, creativity, discovery, culture, art, inspiration...all these things. It's a feeling. It's a headspace, It's a state of mind. That's what we hope to do tomorrow," he says.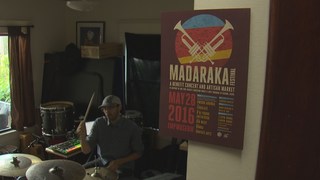 The concert and artisan market benefits One Vibe Africa and youth in Kisumu, Kenya.
The 2017 Madaraka Festival will be at the Museum of Pop Culture. Shows start at 8 p.m. All ages are welcome. Tickets are $25.
Museum of Pop Culture (MoPOP)
(206) 770-2700
325 5th Avenue N
Seattle, WA 98109