Elizabeth Peck was cleaning out the garage. In it was a large antique ship model, the "Glen Haven," that had been gifted to her and her husband Kurt by her family. At around 5ft long and 4ft tall, it was taking up a large footprint in the garage, so large they had to build a special shelf to store it out of the way. Elizabeth decided it was time for the ship to find a loving forever home. She had, after all, been told that she could "do whatever I wanted with it."
Appraised and lovingly restored in 2010, the 1/8" scale model of the Canadian 4-Mask Bark, "GLEN HAVEN," had been handcrafted in the 1940s by Model Builder Nepean Cameron "N.C." Garrison of Tacoma, Wash. The case and Model were appraised at $17,500.
The Model Ship, Glen Haven, Photos and Detail
Of the model, appraiser Gary White said, "This model of the Glen Haven is a special treasure, and should be preserved for future generations to study and observe."
Of the model, appraiser Gary White said, "This model of the Glen Haven is a special treasure, and should be preserved for future generations to study and observe."
"The typical person is wondering, 'who would donate a $17,000 item to Goodwill?'" said Elizabeth. "I was being very logical that day, and I just thought somebody is gonna love this. They're gonna see it from Goodwill, and they are going to be able to display it in their 7,000 square foot home, and it's gonna be fabulous."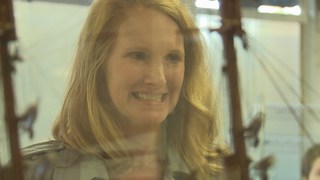 Fast forward six weeks later, to a visit from Elizabeth's mother, Susan Frederick. Elizabeth wasn't home, but Kurt was working in the now reorganized, cleaned up garage. Susan had grown accustomed to seeing the ship displayed on the shelf and asked, "Did you move the ship inside or something?" To which Kurt replied, "'Oh no, we gave it to Goodwill."
At first, she thought her son-in-law was kidding, but he confirmed, "Yep, we figured that was the right place for it go."
Stunned, Susan excused herself and, "The second I got into the car, I said to my husband, let's go to Goodwill NOW." Simultaneously, Elizabeth said, she received a text message from Kurt in all caps, "SHIP PROBLEMS. CALL WHEN YOU CAN."
Elizabeth hadn't been aware of the intense sentimentality that her mother and Aunt, Margie Kiso, associated with the Glen Haven. "That's something that I probably underestimated as sometimes families do, the sentimentality of a piece that brings you back to a certain time when things were special and that you can't get back," she said.
"Sometimes you don't know the value of something until you don't have it anymore," said Margie.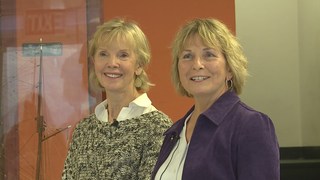 Susan reminisced, "When my sister and I were little, it belonged to my parents, and we had a small home. It was on a shelf in a very small two bedroom house, and my mother would decorate it at Christmas time. It wasn't in the case then, and we always were able to touch it … when she decorated at Christmas time it was always very special."
Susan had little hope as she headed to the Goodwill, "I didn't even know you could get things back, first of all … it had been six weeks, so I thought there was no hope, but why not try?"
At the store, the woman she talked to knew exactly what ship she was talking about, "We all wondered about that," the clerk said and handed a Susan a "Donation Reclamation Form."
"When we get an item that's donated, we obviously look for the best venue for it," said Goodwill Communications Manager Katherine Boury, "For this particular case, it's an unusual piece, and there's some historical value because it did come with an appraisal." The Glen Haven had been put online for Auction, and Goodwill began working with the family to verify their ownership and return the item.
"Luckily, time and serendipity worked in our favor," said Elizabeth.
"Every day in our 24 stores we put out over 100,000 items, so you can imagine how many pieces there are out there," Katherine told us, "This one, in particular, we were very lucky because it was a very distinctive piece, that we were able to go and find it".
As the Glen Haven was wheeled out and returned to Elizabeth, Susan, and Margie, the relief was palpable. "Thank you again to Goodwill, for all they did," said Elizabeth, "The work they do is beautiful work, and this is a gift back to our family."
"One of the exciting things about this story is that we were able to reunite the family with their piece and to see how excited they are. Goodwill always wants to be good donors and good stewards of our donors, because that's important. I mean, we're a community organization, and we can't do the work that we do without the people in our community," said Katherine.