Looking for a new favorite Celtic band? The Gothard Sisters of Edmonds is comprised of three sisters: Greta, Willow, and Solana Gothard. Their musical journey began years ago, when they were just children.
When Greta, the oldest sister, was five years old, she learned how to play the violin. Her younger two sisters, Willow and Solana, followed in her footsteps and learned violin as well; they wanted to be just like their older sister.The girls began performing together and the rest is history!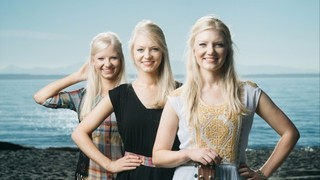 On their latest album, Falling Snow, the sisters reinvent classic Christmas songs with their own Celtic twist, including: "Hark! the Herald Angels Sing," "Still Still Still," "Winter Wonderland," "Skater's Waltz," "Good King Wenceslas," "God Rest Ye Merry Gentlemen," "French Carol (Il Est Ne Le Divin Enfant)," and "Joy to the World." Also on the album are two new original tunes, titled "Christmas Flower" and "The Happy Elf."
To find The Gothard Sisters performances, you can check out their website.