Today on Evening, we're in the SoDo neighborhood, celebrating "National Sandwich Day" at Paseo. This seemed like a fitting location because Paseo's Caribbean sandwiches are truly legendary -- named to more "best" lists than we can count.
While today we're at the restaurant's newest location in SoDo, Paseo still maintains its original location on Fremont Ave N in Fremont. Unlike the cozy Fremont spot, this location has room for you to stay awhile. They also serve beer, wine, cider, and sangria. Another exciting change: while the Fremont location is closed on Monday's, this new SoDo location is open 7 days a week. Though there have undoubtedly been some big changes, don't worry, Paseo's still serving up those same legendary sandwiches.
ON THE MENU
Caribbean Roast Sandwich:
Pork shoulder coated in Paseo Marinade and slow-roasted 'til falling into succulent morsels. All sandwiches are on a lightly toasted baguette slathered with aioli, fresh cilantro, pickled jalapenos, crisp romaine lettuce and crowned with caramelized onions.
Sauteed Prawns Sandwich:
Six Black Tiger Prawns sauteed in extra virgin olive oil with garlic tapenade.
Smokin' Thighs:
Two bone-in juicy chicken thighs bathed in Paseo Marinade. Flash grilled, giving 'em an enticing smoky savor, then roasted 'til flawless. Get the Smokin' Thighs as a sandwich or as a dinner entree, served with Paseo greens house salad, fluffy jasmine rice, critically-acclaimed vegetarian black beans and a seasoned corn-on-the-cob.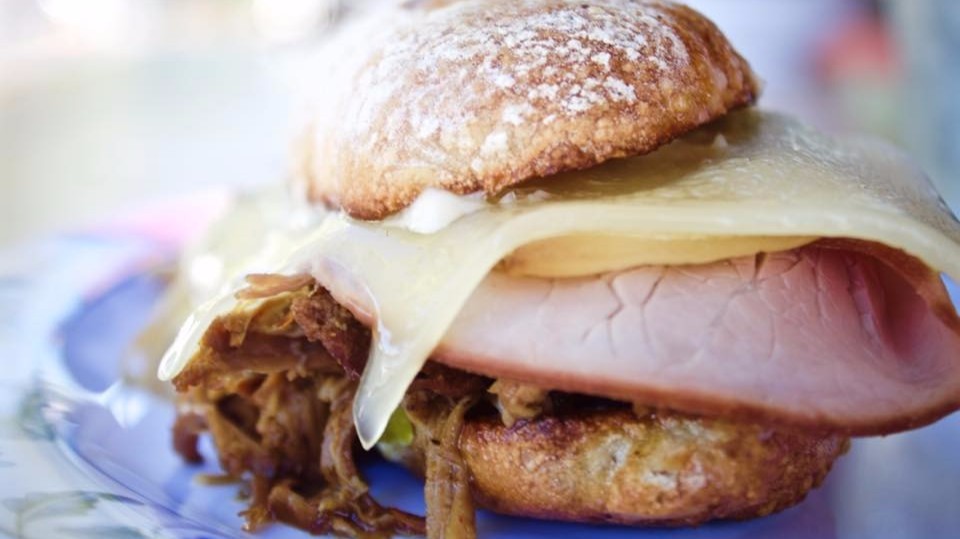 SODO
1760 1st Ave S
Seattle, WA 98134
Phone: (206) 420-7781
Hours:
Mon-Fri: 11 a.m. - 9 p.m.
Sat: 11 a.m. - 8 p.m.
Sun: 11 a.m. - 6 p.m.
FREMONT
4225 Fremont Ave N
Seattle, WA 98103
Phone: (206) 545-7440
Hours:
Tues-Fri: 11 a.m. - 9 p.m.
Sat: 11 a.m. - 8 p.m.
Sun: 11 a.m. - 6 p.m.
Mon: CLOSED