Every year, Blue Thunder - the drumline for the Seattle Seahawks - holds open auditions.
Even the veterans have to try out again.
This year 51 drummers are auditioning - for 29 spots.
Founder and longtime director Keith Rousu is looking for something special:
"What makes a Blue Thunder member is a great question. We try to coach them to be entertainers first, drummers second. You need to be able to dance, move while playing, and hopefully connect with the fans," said Rousu. "So just playing the drum well isn't good enough to get a job here."
Performers break out into sectionals to learn the music that Rousu composes for the audition.
He says each group has its own personality:
"Snare line tends to be more technical players."
"Tenor drummers, quads, quints, whatever you want to call them, you've got a lot of motion so you have to have a certain type of technique to be able to execute that well."
"The Bass drum is more powerful."
"Then the cymbals are absolutely unique beasts in and of themselves."
Lunch looks like a scene out of the movie Fame, as hopefuls eat pizza and practice drumming on tabletops. Then, comes what Rousu says is the hardest part of the two-day audition process:
"We put everything together - for the last two hours they've been in their sectionals learning these two pieces of music, now we're going to put the whole ensemble together and try and perform these pieces of music. And that will ultimately determine our final cuts and who makes the group for this next season."
After the whole group plays and does those cool Blue Thunder moves for the first time together, it's time for the judges to decide who's in.
Everyone's anxious especially newcomers like Elizabeth Harris-Scruggs and TJ Orgovan:
"I'm nervous but I feel like it's kinda good to be nervous because that just shows that you care about doing well," said Orgovan.
Finally, the new 2017 Blue Thunder lineup is posted on the wall: Elizabeth and TJ both make the drumline.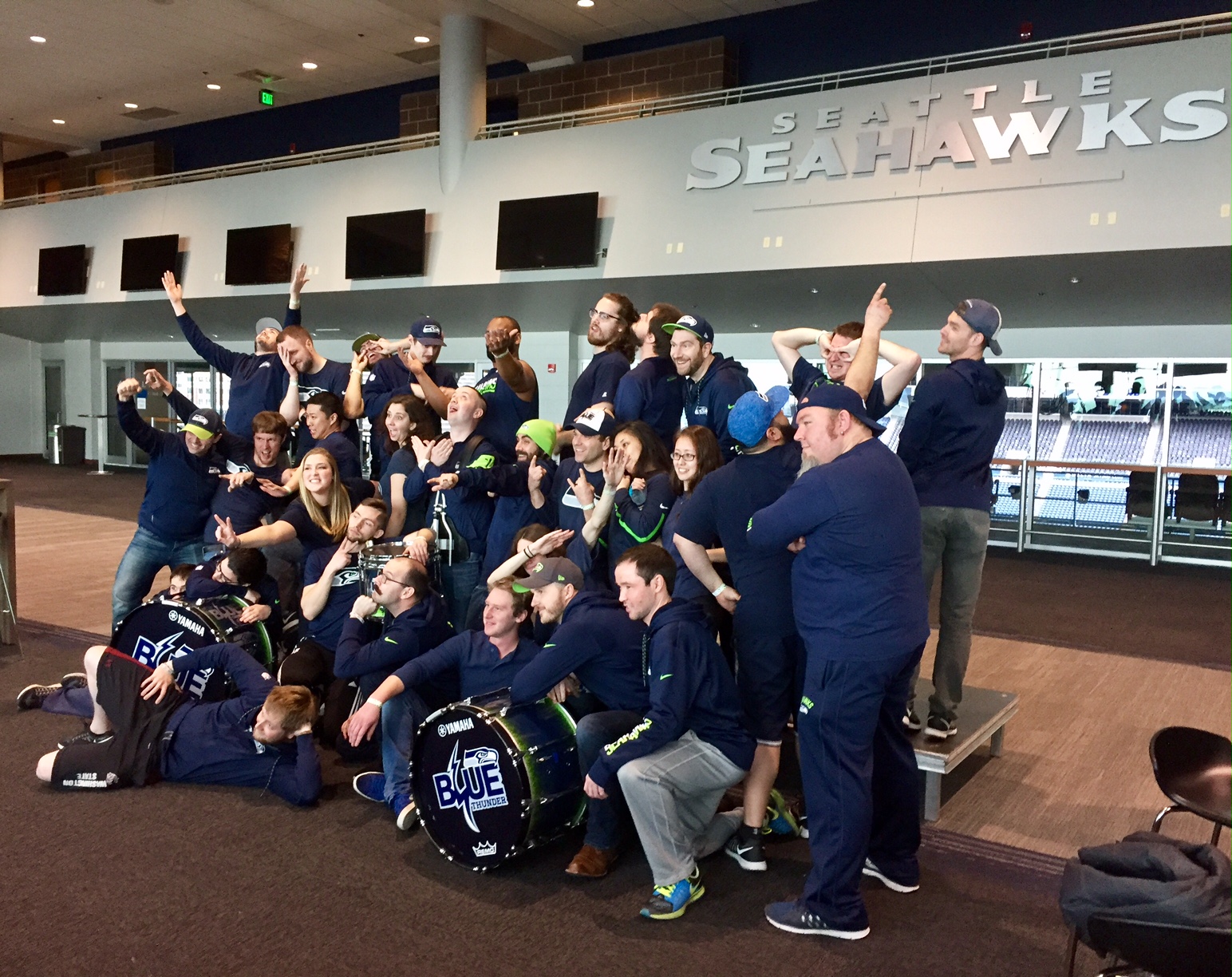 T
There's a restrained celebration and a group photo, and it's official. With a fresh mix of newcomers and veterans, the second oldest drumline in the NFL will keep the beat for the Seattle Seahawks and the 12s -- for another year.
To find out where Blue Thunder is appearing, follow then on Twitter @BTDrumline and Facebook.