Editor's note: This story was first published on Nov. 1, 2013.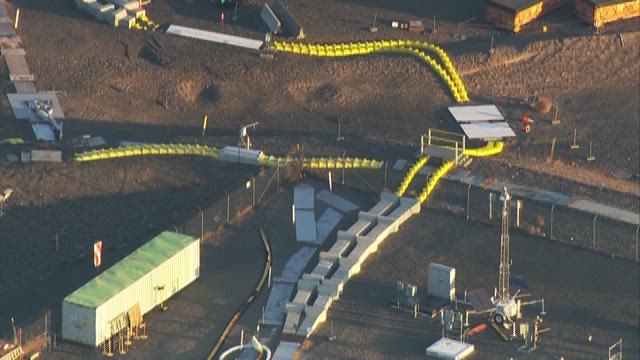 A whistleblower whose findings brought a halt to a multi-billion-dollar construction project at the Hanford Site faces a key court hearing next week that could determine whether his whistleblower retaliation case against the federal government and his former employer should be heard before a jury of his peers.
Dr. Walt Tamosaitis' case has drawn national attention over the past three years. In it, he charges that he was unfairly punished starting in 2010 after he raised concerns about a critical part of the $13 billion Waste Treatment Plant (WTP), a project overseen by his employer, the URS Corporation, which is a subcontractor to Bechtel National.
That punishment culminated last month when URS fired the 44-year veteran engineer. He said he believes the company got rid of him to get rid of his whistleblower suit, noting that URS offered him a severance package with a single string attached: The money is available only if all current and future lawsuits are dropped.
They re holding that severance pay hostage, said Tamosaitis. They re expecting me to sign and give them legal immunity before the federal hearing on November 7. Ethically and morally, that s not the right thing to do. This is just more retaliation.
The Tamosaitis case is an example of an already well-documented problem at Hanford, where 45 years of plutonium production left behind the country s most contaminated site.
What happened to Walt Tamosaitis highlights the culture at Hanford where no one is safe from reprisal for raising safety concerns. When a senior manager like Walt -- a Ph.D. with 40 years of experience -- can be removed from the project, it is a loud message to all other employees that the safest course of action is to remain silent, said Tom Carpenter, executive director of the citizen watchdog group Hanford Challenge.
The problems between Tamosaitis and his employer started in 2009 when he attempted to warn managers of major safety and design problems at Hanford's WTP.
The WTP is the cornerstone of the government s effort to treat the estimated 56 millions of gallons of toxic nuclear waste at the 586-square-mile reservation in eastern Washington. The massive plant specifically was built to take liquid waste and convert it into stable glass logs through a process called vitrification. The stable logs would then be permanently disposed at a yet-to-be-identified high-level waste storage facility.
In 2009 Tamosaitis, the WTP research and technology manager, alerted URS and its prime contractor, Bechtel National, that a pivotal component of the plant needed more work.
I was telling them there was a situation that was really problematic, it could be a major problem and it had to be tested, said Tamosaitis.
His research singled out design flaws in the pulse-jet mixers that were to be installed in tanks inside the plant. The mixers are needed to keep the radioactive liquid waste from separating, akin to shaking up a bottle of vinegar and oil.
Tamosaitis determined that the mixers, as designed, would not be able to mix the waste sufficiently, posing a risk that heavy radioactive elements would collect at the bottom of the tanks and begin a nuclear chain reaction. The reaction, in turn, would generate large amounts of explosive hydrogen gas (a similar hydrogen build up at the Fukushima nuclear plant in Japan caused large explosions after the 2011 Tsunami damaged that facility). He said more testing was needed to develop a better mixing process.
The worst case scenario would be a criticality and trapping of hydrogen gas which could lead to a hydrogen explosion, said Tamosaitis.
Tamosaitis' findings threatened the bottom line at URS and Bechtel. The contractors were under pressure to keep the WTP project moving forward, and there was a June 30, 2010, deadline set by the Department of Energy requiring the companies to finish all work on the WTP's mixing systems have a solution to the mixing problem.
(Mixing) is the most critical technical issue remaining on the project, and its resolution is vital to the WRP project schedule, wrote Department of Energy official Guy Girard in an April 2010 document. Therefore in the event the Contractor fails to achieve (success) ... the DOE reserves the right to reduce the available award fee (bonus). Nearly $5 million was at stake in award fees.
A bigger pool of money for the WTP project was also at risk. In a 2010 internal email, Bechtel executive David Walker wrote to his managers that the Tamosaitis problem could cost them another $50 million -- extra money Bechtel wanted Congress to provide that year.
(We) need to be sure 'Hill' [Congress] get[s] covered and protect the $50 million, wrote Walker.
Without taking action on Tamosaitis' findings, Bechtel and the DOE announced they'd sewn up all the mixing problems by the June 30, 2010, deadline.
Bechtel s WTP project director, Frank Russo, emailed his team a note of congratulations: Today is June 30th. A day of reckoning...you all did extraordinarily well, wrote Russo. He called the results outstanding .
As a reward, DOE gave Bechtel a $4.2 million bonus, and Congress forked over the extra $50 million for WTP work. That brought the federal allocation of funds for the WTP project from $690 million in 2010 to $740 million.
According to Bechtel, the mixing problem was over. That meant all of the technical hurdles to the project had been solved. Bechtel prepared to proceed with design, construction, and operation of the WTP.
Alleged retaliation
Tamosaitis didn t buy it and didn t sit by. He submitted a list of 50 safety and design problems, including the mixing issues, to his superiors at URS and Bechtel managers.
In this scenario money was trumping safety. No doubt. Money and schedule trump the safety part to drive forward, said Tamosaitis. I was now the enemy.
On July 1, 2010, Bechtel s Russo wrote to Tamosaitis boss, William Gay of URS, saying it was time to deal with Walt Tamosaitis.
Walt is killing us. Get him in your corporate office today, wrote Russo.
He will be gone tomorrow, replied Gay.
On July 2, 2010, Tamosaitis was escorted out of the WTP building.
'You're fired from the WPT project. Give me your badge, your cell phone and your Blackberry, you're outta here, Tamosaitis recalled being told by a manager.
Bechtel has said Tamosaitis was not retaliated against. Instead, the company says the project he was working on had been completed.
We expect people to bring up questions and it is part of our culture here that we address all the questions in a very open environment and we expect that to happen, said Bechtel National Spokesperson Suzanne Heaston in 2012.
URS moved Tamosaitis to another building where he was assigned to a makeshift office in the basement. He sat alone in a cramped space full of storage boxes, rat poison feeders and copy machines. He was not assigned any work and had no boss to report to.
The message was, 'Don't do what Walter did. Don't raise issues. Shut up (and) do what we say,' said Tamosaitis.
Without any work assignments, Tamosaitis read technical articles, engineering literature, and one study after another that concluded his findings about the WTP mixing problem were right.
The Defense Nuclear Facility Safety Board and the Government Accountability Office both issued reports highlighting Tamosaitis' work. And in early 2012 Energy Secretary Steven Chu ordered a halt to WTP construction.
Walt s issues about safety have been vindicated. The DOE is abandoning the WTP design. Walt s experience shows that truth tellers are not welcome in this industry. If it takes a great act of courage and risking your career to raise nuclear safety issues, then you can bet most people won t. The public loses because we almost certainly aren t being informed about the true conditions about the safety of the plant, said Hanford Challenge's Carpenter.
Tamosaitis eventually got out of the basement and in the last few months even got some work. And in September there was promising news from the DOE. The new Energy Secretary, Ernest Moniz, issued a directive to stop the harassment of whistleblowers: We must not deter, discourage or penalize employees for speaking up, wrote Moniz.
But six days later, Dr. Tamosaitis got an unexpected visit from a company executive.
Before I could say 'Hi,' he says, 'Walt, today's your last day. Pack up your things and we'll escort you to the door.'
Tamosaitis' firing drew quick reaction from lawmakers and watchdog groups. If these actions against Dr.Tamosaitis are allowed to stand, it will be a very cold day indeed before employees at Hanford and across the Department feel free to come forward with health or safety concerns, wrote Sen. Ron Wyden of Oregon to Secretary Moniz on October 9. Wyden is chairman of the U.S. Senate's energy committee and represents a state with a keen interest in Hanford, given the threat the site's radiation poses to the Columbia River.
A federal judge dismissed Tamosaitis claims in 2012, but on November 7 a panel of three judges from the U.S. Ninth Circuit Court of Appeals will hear his case in Seattle. They will be considering whether to overturn the earlier rulings and grant Tamosaitis a jury trial.
Walt Tamosaitis s legal claims against Bechtel National, Inc. (BNI) have all been either dropped voluntarily by Tamosaitis or dismissed by a judge. He is employed by URS. He has never been employed or paid by BNI, and has had no contact with BNI or WTP since July 2010 when URS transferred him off the project, said Jason Bohne, spokesperson for Bechtel National.
On October 25 Tamosaitis wrote directly to Secretary Moniz, urging him to send a message to Hanford contractors.
I encourage you to take distinct and definite actions so a clear message is sent to all contractors that retaliation, punitive actions, and disregard for employee input will not be tolerated, wrote Tamosaitis. If no actions are taken at this time I believe it will have very serious and lasting ramifications on all DOE projects and programs.